Posted: Wed, Jan 23, 2019
Last updated: Thu, Jan 24, 2019
---
| | |
| --- | --- |
| Date | 23rd January 2019 |
| Lineup | Kameron Michaels, Blair St Clair, Mutha Tucka |
| Venue | Cruz 101, Manchester |
I'm typing this entry up on my phone from Manchester Piccadilly railway station. It's currently 01:01am, and it's fucking Baltic in here. My train home is at around 06:15am so I have time to kill. A lot of fucking time.
"Why didn't you book a hotel?"
Because I'm cheap. Next.
I decided I'd wear something half-decent this time. I brought a change of clothing with me to work so I could go straight from there to the train station. I'm glad, because I'm currently wearing some big clunky boots and they're keeping my feet warm.
I made the trek to see Kameron Michaels and Blair St Clair, two queens from season 10 of RuPaul's Drag Race. Originally Latrice Royale was performing instead of Blair, but pulled out after I'd bought tickets. Dick move from Latrice, but whatever.
I fumble my way around the streets of Manchester and make my way to the venue. I passed around 3 gay bars before finding a mural on a wall - 'Welcome to Manchester's gay village!' A whole ass village! There were so many bars, and I walked past a fetish shop too. There was a gorgeous mesh top in the window but I didn't have the time nor cash to go mooching round in there.
Doors opened early (for once) so I didn't have to wait outside for too long. I go to the bar and get my usual double and Red Bull. I never know how much they're going to charge me for that as a wee pub in Gateshead will charge £3.60 whereas Rock City in Notts will charge me £7.40 for the exact same drink. I pull out a tenner and my ID. This is a bar rather than a live venue so it should be cheaper, right?
"That's nine pounds."
Uh, okay. Just one drink for me tonight I guess.
The actual show didn't actually feel that long. At all. Kameron opened with a number before Blair did a set. I didn't really take many photos at all, it's not something I was in the mood for doing. I took a couple.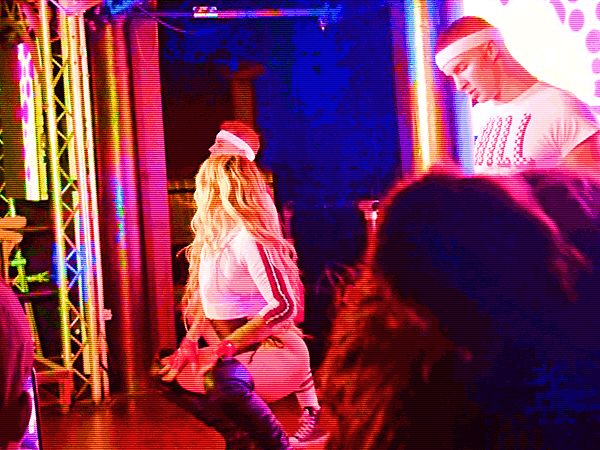 No, you can't see Kameron's face, but I just wanted to highlight her outfit here. It was gorgeous. I need to invest in a sporty cropped hoodie. Not like I'm ever gonna exercise, but it's a cute look.
Blair did a few songs. It turns out she's released an album that got to number one on some dance chart. She did one of her own, then a Broadway one, then a couple of pop songs. There was then a performance by the show promoters, a song from Mutha Tucka, a song from Blair, then Kameron did a song to close. Mutha Tucka is a bearded queen hailing from my home city, so it was nice to see her there.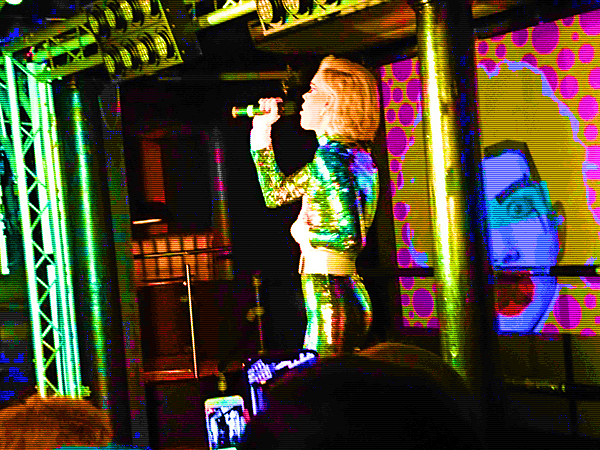 There were also large breaks between the parts as well as an audience participation section (which really isn't worth writing about). I think overall the whole show was about 45 minutes long if you cut all the breaks out. I don't know, I wasn't feeling this. I mean it was fun, but not crash-in-a-train-station-because-the-first-train-home-is-at-6am kinda fun. Maybe this is the norm, it's just that the Dragula tour raised the bar so high that all the drag shows after that feel like a step down from that.