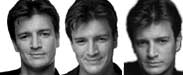 Nathan Fillion
[Johnny]
A funny and outgoing kid, Nathan Fillion was a natural to become an actor. He honed his performing abilities in Theatresports Workshops Rapidfire Theatre, a renowned improvisational comedy theater in Edmonton, Alberta. An agent signed Fillion after he saw him perform in the Fringe Theatre Festival. From there he was offered the role of Joey Buchanan on the daytime drama, One Life to Live, for which he won an Emmy nomination. He stayed with the series for three years.
Fillion moved to Los Angeles in 1996 and landed the plum role of the "wrong Ryan" in Steven Spielberg's epic, Saving Private Ryan. He also co-starred in Hugh Wilson's film, Blast from the Past.
He has appeared on numerous television series, including ABC's Spin City, Outer Limits, Maggie Winters and Total Security.
Fillion's interests run the gamut from beach volleyball to drawing and writing children's literature. He recently wrote two children's books and is currently shopping for a publisher.