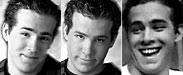 Ryan Reynolds
[Berg]
Canadian native Ryan Reynolds has appeared on such shows as The X-Files and The John Larroquette Show. He was also a regular on several television series, including the Canadian program, The Odyssey.
Reynolds co-starred in several made-for-television movies and miniseries, including a leading role in Serving in Silence: The Margarethe Cammermeyer Story, which starred Glenn Close. He was also featured in Truman Capote's In Cold Blood.
His feature film credits include Ordinary Magic, ironically, during the production of this film, he failed his high school drama class. He's also in The Alarmist which premiered at the Sundance Film Festival.
Recently, Reynolds appeared in Coming Soon, co-starring Mia Farrow and Gaby Hoffman; and Dick, co-starring Michelle Williams and Kirsten Dunst.
For his work in Nickelodeon's series, Fifteen, he received a Youth in Film Awards nomination as Best Young Actor.
Reynolds currently lives in Los Angeles with his dog, Jobey.