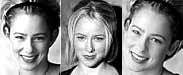 Traylor Howard
[Sharon]
Traylor Howard recently wrapped production on the upcoming feature, Me, Myself and Irene, co-starring opposite Jim Carrey and Renée Zellwegger.
A Florida native, Howard got her first exposure to acting by appearing in commercials. She graduated from Florida State University with a degree in communications and advertising and a minor in English. And if you're wondering about her unique first name, it's her grandfather's surname.
Howard appeared in over 30 national commercials before winning the role of Joy on the comedy series, Boston Common.
Her other feature film credits include Dirty Work for MGM, starring comedians Norm Macdonald, Chevy Chase and Don Rickles, and the independent feature, Confessions of a Sexist Pig.
Howard, who currently lives in Los Angeles, enjoys tennis, snow skiing, yoga and swimming.