Posted: Sat, Feb 4, 2017
Last updated: Sun, Feb 9, 2020
---
| | |
| --- | --- |
| Date | 4th February 2017 |
| Lineup | Doyle, The Dead XIII, Def Con One |
| Venue | O2 Academy 2, Newcastle-upon-Tyne |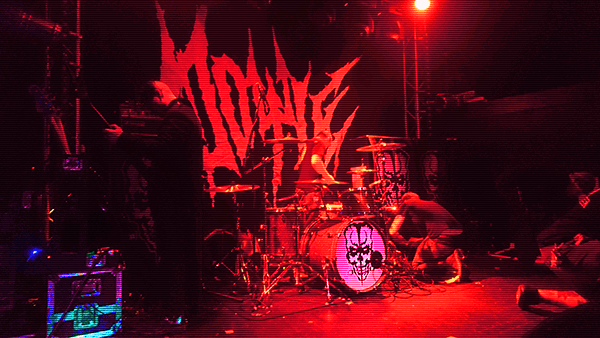 Doyle is Misfits guitarist Doyle Wolfgang von Frankenstein's solo band, which has Cancerslug frontman Alex Story on vocals. Now, I am a massive fan of Cancerslug. They're not incredibly well-known (unfortunately) and therefore only tour round the States. The concept of seeing Alex in person was pretty much unfathomable to me unless I shelled out the big bucks to go to America which is, uh, not really feasible. Skip forward to when tickets are announced for Doyle, and I damn near lost it. Tickets were so cheap they were practically giving them away.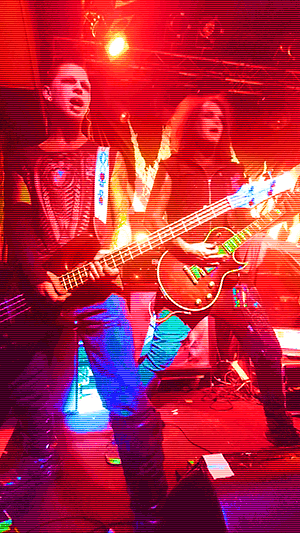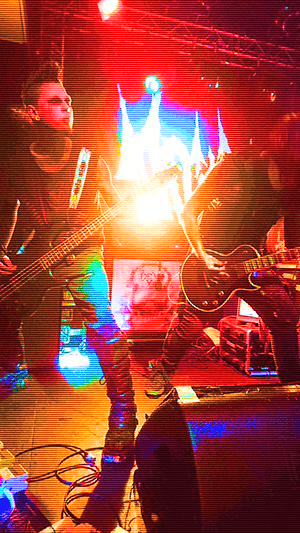 I don't have a massive amount to say about the first two bands that played, their sets were pretty decent and when I had a wee chat with them after the show, they seemed like nice lads.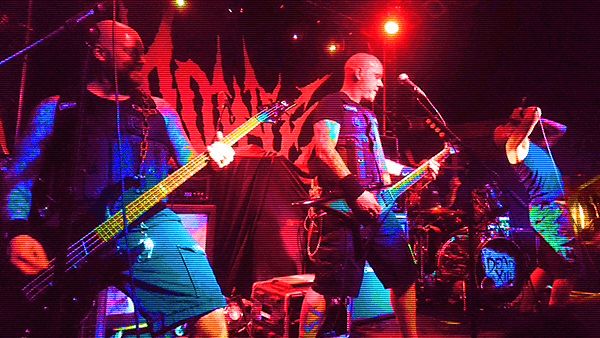 Alex's energy is fucking electric, of course.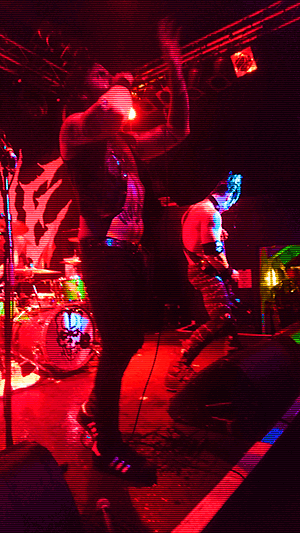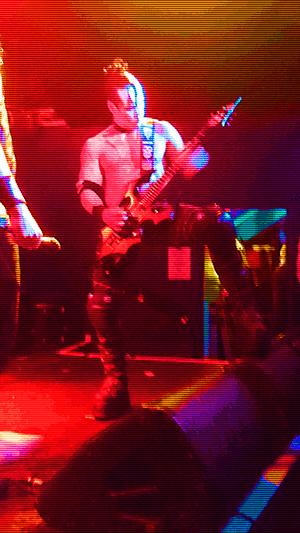 After spending more than I should have on merchandise, I got the chance to meet Doyle and Alex after the show. There was a queue of people who had also gotten VIP tickets, so I slipped to the back of the queue so I could spend the most time with them. I was chatting with a guy who travelled from CHILE just for this show. He asked me how old I was (18) and he point blank told me "I thought you were 12" straight-faced and all. The trans man struggle. He was lovely though and shelled out over £150 on merch. A beast.
I got a few things signed by the guys. One being my copy of Alex Story's book - The Slugcult Bible.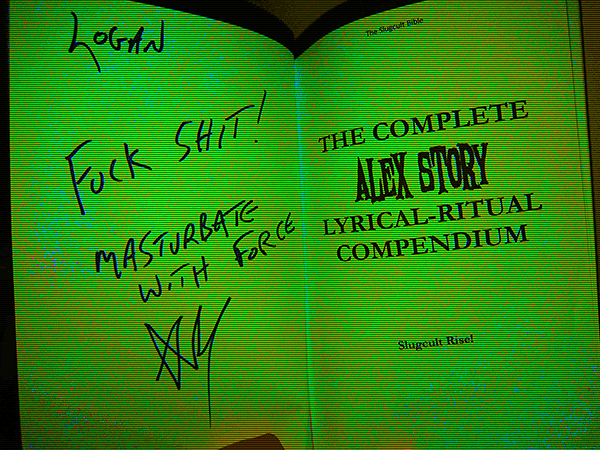 Words to live by. I love this bitch.
I also got a couple of CD liners signed. Unfortunately, because Abominator was a Digipak, the ink ended up getting stuck on something before it could dry, so it's a little smudged and some of the paper has come off. Fucking annoying, but I'll live.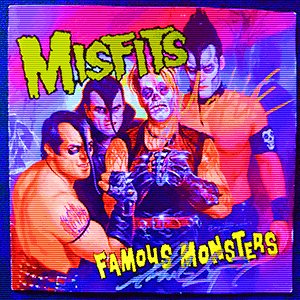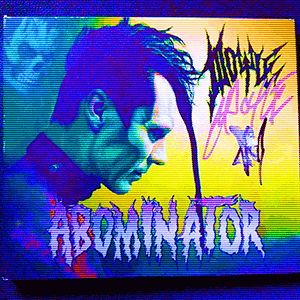 (Future Logan reporting in: I'm tarting up this entry a couple of years after it was written, so my Famous Monsters booklet has an added signature from Michale Graves, who I had the pleasure of seeing in January 2019).
I'm sure a few Misfits fans will be on my arse as Famous Monsters is my favourite Misfits album. It's called taste.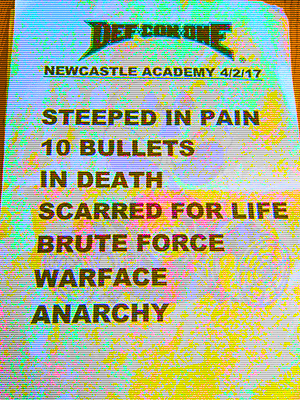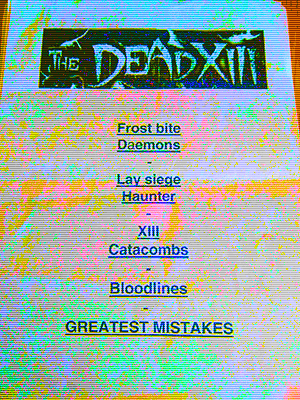 I got my hands on the openers' setlists, but not Doyle's. The guy next to me in the VIP queue was nice enough to let me nab a photo of the one he got.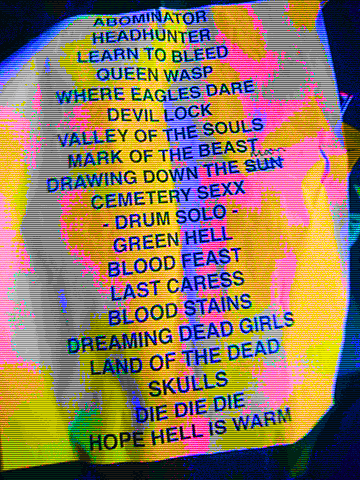 Lots of Misfits songs on the Doyle list, which is to be expected I suppose. Most people at the gig didn't even know Doyle had a solo gig going, they just came for Misfits.
Also managed to grab these too.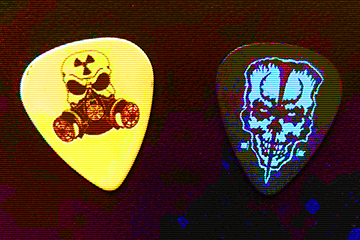 Def Con One and Doyle's plectrums, respectively.
To round off this post, here's the merch I got. I love pin badges and I only wish I shelled out for the other ones they had there.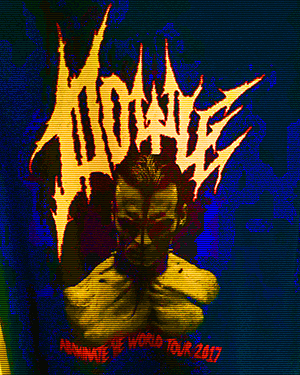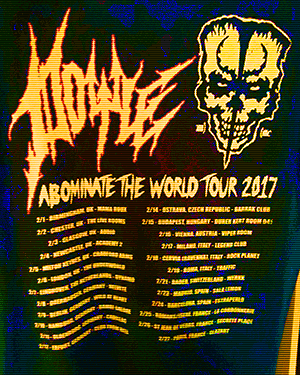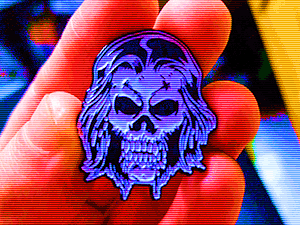 Doyle also toured this year too, but they came nowhere near where I live, and I had already spent way too much within the past couple of weeks to travel to another gig. Maybe I'll get to see them again one day.