Posted: Wed, Feb 22, 2017
Last updated: Sun, Feb 9, 2020
---
| | |
| --- | --- |
| Date | 22nd February 2017 |
| Lineup | Wednesday 13, Bourbom Crow |
| Venue | Newcastle University, Newcastle-upon-Tyne |
"Wednesday 13 announces a UK tour!"
I'm listening. Intently. Fang Bang is a fucking stellar album and I love it to bits. To hear some of that shit live… what I would give…
"… the tour is called Undead Unplugged …"
Oh, so it's an acoustic set. Fuck me I guess. I really don't like acoustic music very much. I've never been into it. I still decided on getting a ticket as I really don't see W13 coming back round my neck of the woods any time soon.
My first mistake was standing front centre at the barricade. It was just Wednesday and Roman Surman sitting on bar stools on the stage, and every time Wednesday looked up we made eye contact and it was horrible. I felt awkward because I didn't know any of the words to his new album (everything after Fang Bang is terrible, and I've tried hard to get into it.)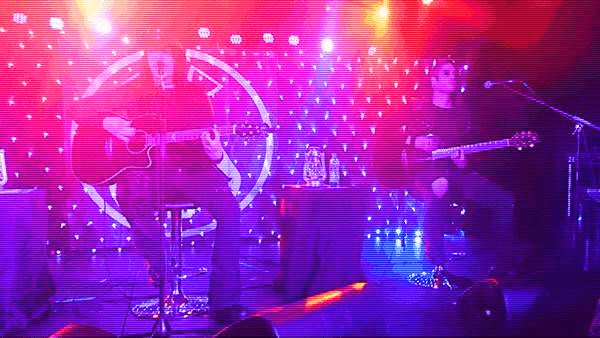 The other band to play was Bourbon Crow, which is Wednesday 13's country project. I mean… whatever.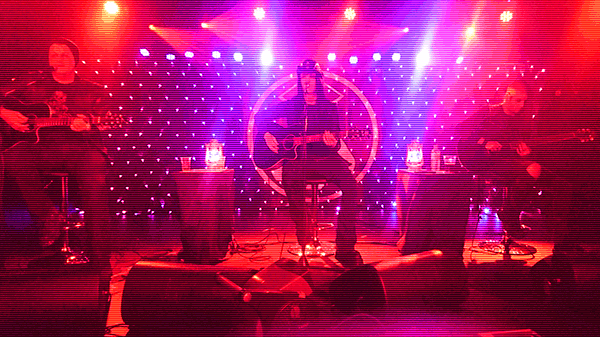 The girl next to me had gone VIP and knew EVERY word to EVERY song, and was with her mam. She had been following him around on tour and had sneaked backstage for pictures/autographs every time. Good for her I guess.
Newcastle Uni's venue is a decent size, but had been cornered off to make a smaller/more intimate venue, and looking around there could not have been more than 40 people there. I was astonished as surely every edgy teenager loves Wednesday 13 so this place should have been sold out. Or at least I did, maybe all the goths are into mumble rap or metalcore now.
I briefly considered going VIP as I had done for <PIG>, but the VIP package was £70 so fuck all that. I did however get a shirt and a pin badge. They're really cute.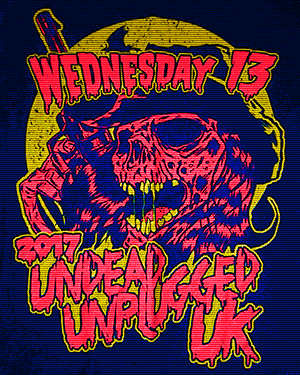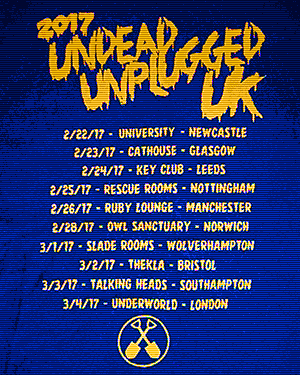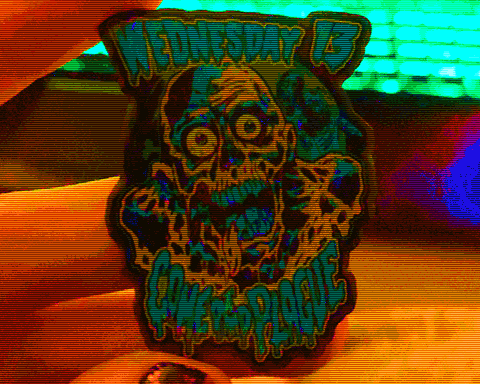 I would still give my left tit (both of them, actually. I'm desperate to get rid of them) to see Wednesday 13 live, but the non-acoustic version. Shit, Murderdolls even. IMAGINE! Maybe some time in the future I'll get that opportunity.
(Future Logan reporting in: I did get the chance to see Wednesday 13 play a non-acoustic set when he opened for Static-X in October 2019. I, uh, haven't written the article yet, but I'll link to it when I do. Spoiler: still no Fang Bang! When will I ever get to hear such classics as My Home Sweet Homicide, Too Much Blood, or Morgue Than Words live?!!)