Posted: Fri, Jan 11, 2019
Last updated: Sat, Jan 12, 2019
---
| | |
| --- | --- |
| Date | 11th January 2019 |
| Lineup | Black Peaks, Palaye Royale, Enter Shikari |
| Venue | Rock City, Nottingham |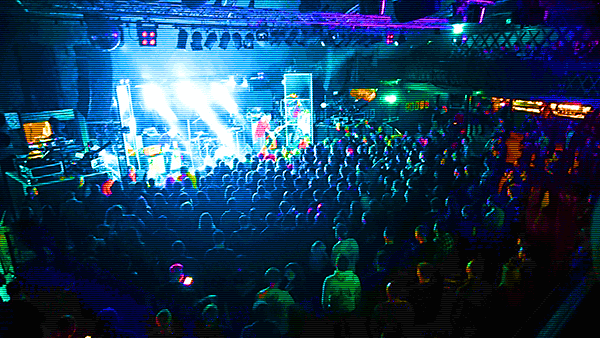 I like going to shows, they're fun, and if I know of a band and I know they have at least a few bangers, I'll likely go. In the past, the shows have been reasonable. I haven't gone to see anybody massive before (well, in my opinion I've seen some living legends perform but clearly greater society does not hold the same opinion…)
It looks like Enter Shikari are massive. The venue was sold out. I bought the last ticket, I'm guessing. On the website it had '1 TICKET REMAINING!' before I got mine. I didn't clock that if 2500 people bought tickets to this show, there may be a slight commotion.
I'm being overdramatic here. Nothing crazy happened. I got to the venue after work about 20 minutes before doors opened. The queue? Ridiculous. A good 100 people at least were lined up. This is something I'm really not used to as I'm normally one of the first 5 or 10 at a venue and it's not like I'm making any real effort to get someplace early.
The people there were a solid 50/50 mix between scene kids in black skinny jeans with Vans and disgusting, greasy hair, and people who bullied me for being a weirdo in middle school for liking 'weird people music' of whom are now dipping their toes into alternative music. No inbetween. I'm already concerned.
I've also had a cold since New Year's Eve and it was fucking awful all that week at work. Coughing and snotting everywhere. I decided that taking the entire situation into account, I'd skip the barricade and go to the balcony instead.
First band, Black Peaks. They were kinda boring, and were dressed in the most pedestrian, Sunday afternoon grocery shopping outfits I'd ever seen. Bitch you are on STAGE! MAKE AN EFFORT! I was zoning out a bit during their set. Multiple interesting thoughts were clouding my brain, such as remembering the slice of pizza I heated up in the microwave before I left that I forgot to actually eat, and the fact my lower jaw was aching as one of my wisdom teeth is coming up. Another thought was how much pressure I could put against said tooth with my tongue before it went from an ache to full on pain. Experimentation to find this point was done. I'm not sure how you'd convert that pressure to a numerical format.
Oh yeah, the band. They were doing their thing I guess.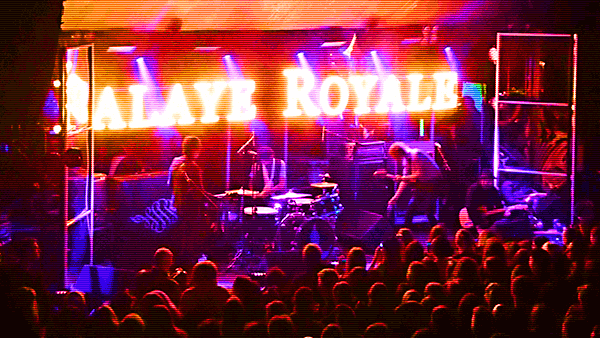 Palaye Royale were next. They went all out on their stage decorations and outfits. They looked nice. The crowd, who were pushing around and shit for Black Peaks, were motionless during this band's set.
The only energy from the crowd came from a gaggle of very young girls in a pocket at the centre of the barricade. They were going hog wild. Their shrieks were unbelievably loud considering there were no more than 8 of them. They were having fun though so good for them.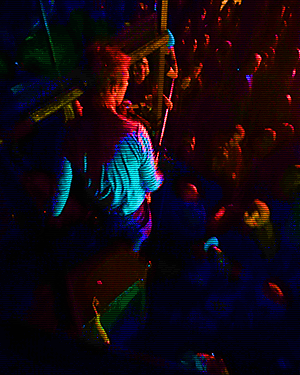 Their set was also not my thing. I'm taking a look at their Wikipedia page and they're listed as 'art rock'. This must be what the youth are into these days.
The lead guy was clearly pissed at how dead the crowd was — near the end he climbed onto the balcony and then jumped off back into the crowd to rile them up a bit. Which worked, like, a little bit.
Eventually it's time for Enter Shikari. Someone was kind enough to upload the setlist online so I have a point of reference.
I came to this show specifically for Gandhi Mate, Gandhi. Not my favourite song in the world but it's some catchy shit. And they played it! Albeit a shortened version, which is a bit of a dick move if you ask me. I hung around for a few more songs but it got to the point where I was questioning why I was there. The crowd were loving every song of their set. Absolutely everyone was really into this, singing all the words to all the songs with a good portion of people recording the entire set on their phones. I still don't really get that… everyone is jumping around and crushing into each other, how the fuck are you gonna get a good clip on your phone? What are you gonna do with it? It's not my business I guess. I ended up leaving after Undercover Agents, I think. I'm looking up the songs on that setlist and I don't remember anything they played after that one.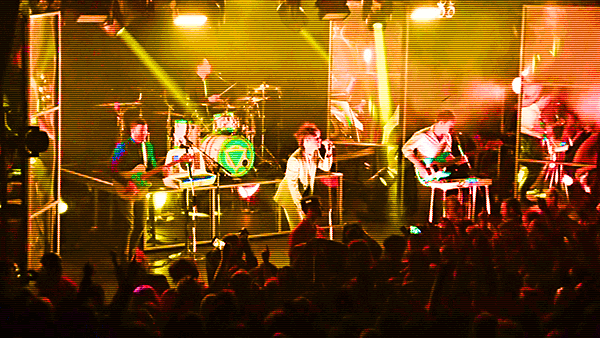 One of the ones they played appears to be called Rabble Rouser. That sounded fucking great when I was there. I had a little listen to the studio version this morning (the morning after the show, as I'm typing this) and it's just as good. See, this ticket wasn't useless! I got to hear the song I came for, and found a new banger.
It was nice leaving the venue early and not having to full-on wrestle to get out the front doors. I took a moment to locate the Basement in the same venue, as I'm seeing Dance With The Dead there next month. Saves me hunting for the room on the day.