Posted: Thu, Jan 17, 2019
Last updated: Mon, Jan 21, 2019
---
| | |
| --- | --- |
| Date | 17th January 2019 |
| Lineup | Avatar, The Mahones, Dylan Walshe |
| Venue | O2 Institute, Birmingham |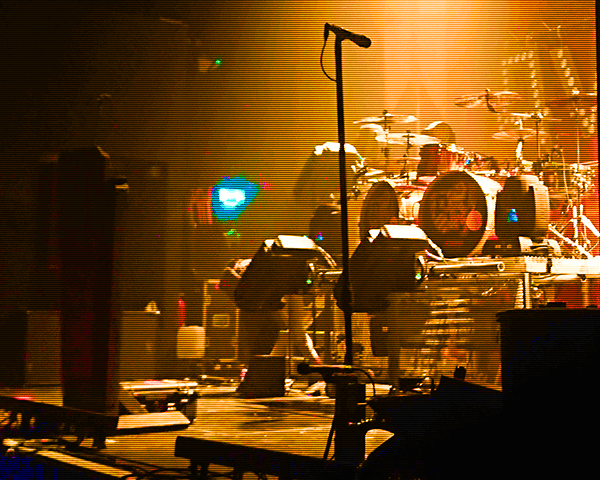 I had to bolt from work to the train station if I wanted to get to this one for doors. It's 2 minutes before the train is supposed to leave the station, and there's an announcement.
"Due to technical issues, this train has been cancelled."
Honestly. It didn't end up being that bad as we were all eventually lumped onto the next train, but it did mean I was hanging around for a long time not knowing what the fuck was going on. There was also no clear indication that the follow-up train was the correct one as it was destined to Cardiff with Birmingham a stop on the way. You'd think this would be fine, but you have no idea how arsey the ticket people can get if the routes and times on your ticket don't match exactly.
Anyway, I land in Birmingham in one piece, and start trying to find my bearings. I have never been here before. Thankfully it's pretty much a straight route to the venue from New Street station, and I arrived fashionably late. A solid 40 minutes after doors. It was at this point I realised that unless the band is absolutely fucking huge (read: Enter Shikari) people are just not arsed about getting there on time. I got a spot at the barricade, albeit a shit one.
I caught the tail end of Dylan Walshe's set. It was just a country dude in a cowboy hat, with an acoustic guitar and a harmonica. Not my thing really, so I feel I hadn't missed out on much. Next up were The Mahones, a Celtic punk band (yes, I had to look up that term). They were pretty fun and I fully respect the woman who was killing it on the accordion.
Avatar are up next. I'm trying to remember how I found out about them. I distinctly remember the album cover for Black Waltz, although I don't believe I've ever heard a song from them before. Maybe I'm thinking of Black Veil Brides and the very brief period of my life where I thought Perfect Weapon went hard as hell. Let me look the album covers up a second.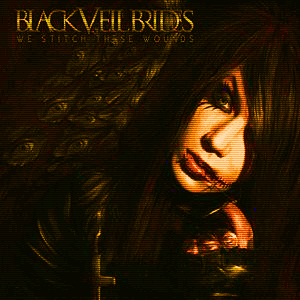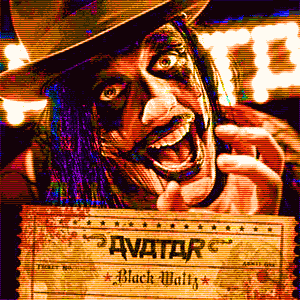 …
They don't look alike. The eyeliner may put them as distant cousins. How the hell did I find out about this band? I don't have a fucking clue. I really don't.
For about 20 minutes before the band came on, they had their own radio station playing. Like, it was a carnival-kinda station that was voiced by the band that was meant to set the scene and atmosphere. It was such a cool concept. It felt very Facebones. The whole radio show revolved around worshipping the King, who I soon learned was a guitarist in the band.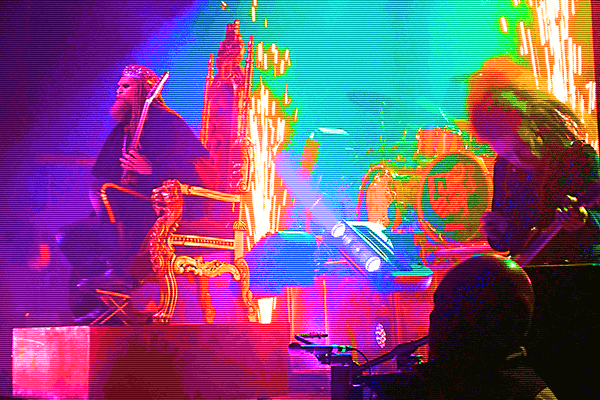 I had a bit of a shit spot so I couldn't see the whole stage, but I got the gist of it. It was hands down the best stage set-up I'd ever seen. There were three tiers on the stage. The base stage floor, another tier about 3 feet up, and another a further 6-or-so feet up from there. The members would shift between the very top tier and the ground level, which was sometimes stressful as the highest tier would shake when people were on it.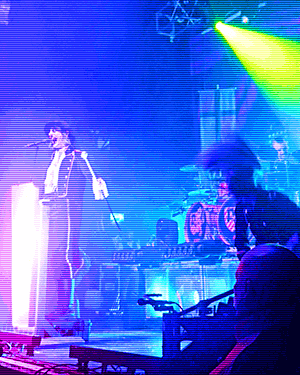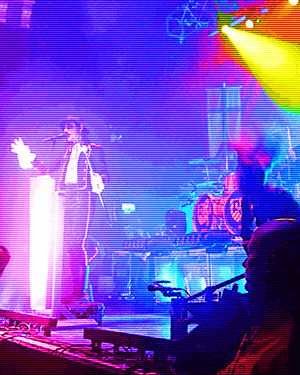 They also had their 'Avatar' logo lit up as the centrepiece above the band and stage props. This would've been one of the few times where I would've loved to be front and centre so I could soak all of it up. It was incredibly well-executed. Stunning even. Music slapped too.
I had to leave just before the encore so I could get the train back. The second the song ended and they'd all done their thank-yous I was out of there. This was a pro to being at the side - I could slip around the sides of the venue and out the back without having to wrestle past anybody. I managed to grab a shirt before having to dash back to the train station.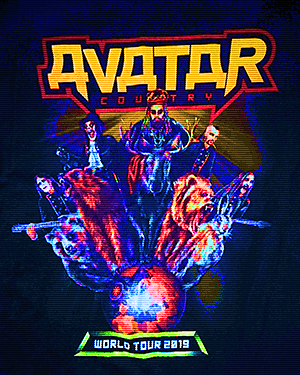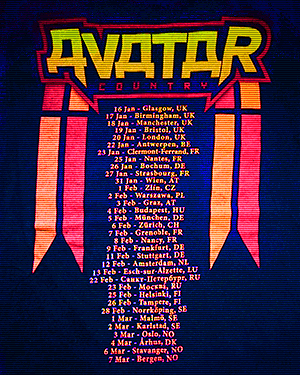 The merch stand was glorious. The vendor was kitted out like a man working at a carnival, and there was a spin-the-wheel thing going on too. I couldn't see what the prizes were, it might've been a free shirt or sticker or something like that. I didn't have the time to properly check out what was going on.
One thing that I had never seen before was outside the venue. There were 3 guys - two of them looked as if they were sleeping on the streets, and the other was flitting back and forth from a payphone. They each had a stack of bootleg shirts laid out on the ground in front of them and were trying to sell them to people who left the venue.
I mean, tour shirts are pretty pricey. They normally range between £15 and £25 which is pretty steep, but they've gotta put food on the table and keep the lights on. I can't hold it against them. People don't buy music anymore so touring is all they have unless you're like, Trent Reznor or something, so I thought it was cheeky that people were trying to skim money from them literally outside the building. But then again, the people selling the bootleg shirts have gotta eat too. I can't be mad at them either.