Posted: Sat, Feb 2, 2019
Last updated: Sun, Feb 3, 2019
---
| | |
| --- | --- |
| Date | 2nd February 2019 |
| Lineup | VNV Nation, Empathy Test |
| Venue | The Asylum Bar and Venue, Birmingham |
Heaven knows I love a bassline that pounds so hard my entire skeleton is shaking in my skin. VNV Nation delivered in this department.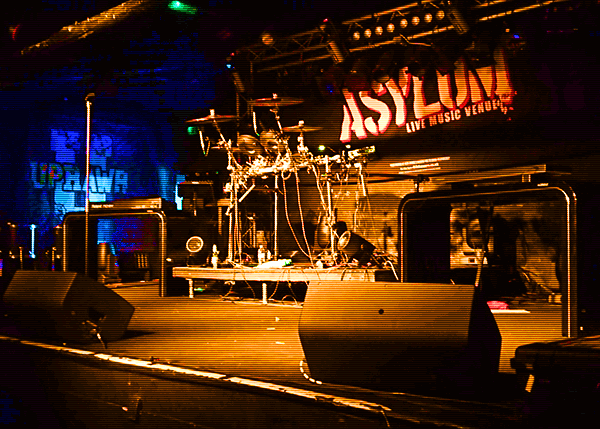 This was a weekend show, so no hassling with trains straight after work or whatever. I got to the city a few hours before doors so I had time to explore, get food, that kinda stuff. I wasn't going to buy anything as I didn't want to be carrying shit in the venue. It's bad enough I had a jacket on. Tad shameful that I need a jacket considering I'm from the north east of England, where people would probably face the Arctic tundra in a wifebeater and shorts. I'm pinning this one on me being underweight. Once I beef up (which I will never do) I'll be good.
On my travels I got stopped by a girl in H&M. She was dressed like an Instagram model and had cursive tattoos on her face and neck, and I didn't get a good look but her arms were covered in tattoos as well. She told me that she loved my style, which is a compliment I have never heard in person before. I feel like someone as well-put-together as her had no business telling me I looked good, but that's not to say I wasn't super flattered. I was dressed very over-the-top today because I rarely get the opportunity to go all out, and this was a reminder that I should wear the most extravagant shit I want at every given opportunity.
I found an alternative marketplace too called The Oasis. Four floors of various units of all kinds of non-mainstream fashion. You had the classic goth joints, jewellery units, a few '60s hippie units, a few Bring Me The Horizon-kinda units, a couple of tattoo/piercing parlours, and more that I can't remember. I'd never seen anything like this before. It was a very small shop on the front, and then you walked in to a pretty standard edgy urban fashion store, before you'd encounter some steps at the back, plastered with posters for raves and other functions that would take you to the other floors. I wish I'd been able to spend more time there. I managed to score some leather fingerless spiked gloves for £7, which is stupidly cheap for that kind of thing.
After that adventure, I spent too long in a CeX so was cutting it fine if I wanted to get to the venue for doors. It was also dark, I'm not good with maps, and the venue is out in the sticks. I, of course, fucked up and walked in entirely the wrong direction, ending up in Hockley when I was supposed to be in the Jewellery Quarter. My incompetence never fails to impress me.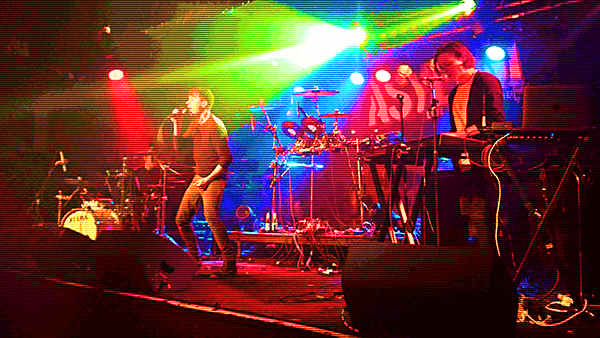 It's ten minutes after doors and already the place is filling up. I managed to weasel my way to the front, but it meant I couldn't get a drink. I had a glance behind me and saw that they were charging £4.50 for a single and mixer, which means doubling up would cost more. Maybe skipping the drink was a wise decision.
First band up is Empathy Test. They were pretty funky, the music was fun and catchy. The vocalist buggered up one of the songs so they had to start it again, but the band were so laid-back and humorous about it that it didn't feel horribly awkward like it could've been.
Next up is VNV Nation. Two very sleek tables are positioned either side of the electronic drum kit. All of the members are dressed very clean in button-up black shirts, black pants, and black dress shoes, including Mr Nation himself. Also, do not be fooled by this photo. There were the slower songs where he stood with a mic, but when the songs would kick off, he'd be storming back and forth across the stage, really getting into it. The lights show was crazy good too. They went all out.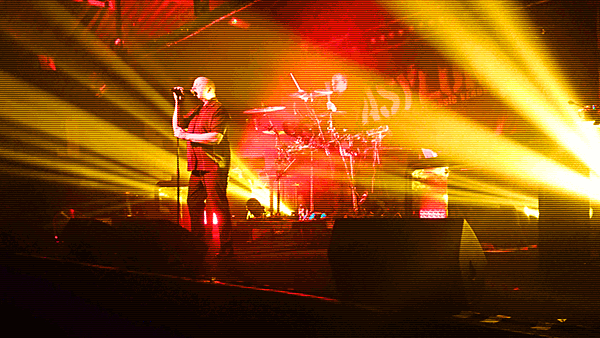 Ronan starts off with two things. One: no flash on your phones. Two: if you're going to record stuff on your phone, don't obstruct other people's views. Also, hold your phone below your face so you can actually watch the show, not just glare at a screen. During the show he'd also point out zombies staring at a screen and tell them to keep their eyes on the stage. He wasn't aggressive about it, it was more of a "enjoy yourself while you're here" type of vibe.
He's also one of the most gracious artists I've ever seen, thanking people after every song. The crowd were loving every second of this show, Ronan knew that, and you could see the awe and admiration written all over his face. It was beautiful to see.
Every song went off. Every single one. All of them songs you could dance to. I've barely listened to VNV Nation up to this point – I knew Chrome like the back of my hand (which was a blessing to hear live), and I'd heard a couple others. This was an incentive to check out his other work.
After the show, he gave an impassioned speech-type thing (it wasn't a speech, dude was just chatting really) about how grateful he was to perform to such a crowd, and how he'd definitely hit Birmingham again.
I hung around afterwards to see if I could grab a setlist, but they weren't handing them out at all. Security eventually ushered everybody out, so now I'm outside the venue at 21:30 (yes, that's right, nine thirty) and I need to find something to do. If I had known the show would finish this early, which I should've guessed because doors were at 18:00, I could've hopped on a train straight home. I'd booked a hostel and a lunchtime train back. My legs were fucking killing me so I'm sort of glad it worked out the way it did. An enforced break if you will.
It was also my first time staying in a hostel alone. I'd booked a bed in a 4-bed room, and it was alright. Couple of metal bunk beds. Only issue is that 2 of the 3 other men in the room snored ridiculously loud so I was woken up 4 or 5 times over night, but I can't begin to explain the improvement this was over crashing in a train station like I did for a drag show about a week ago.