Posted: Tue, Mar 19, 2019
Last updated: Mon, Apr 15, 2019
---
| | |
| --- | --- |
| Date | 19th March 2019 |
| Lineup | Oomph!, Heldmaschine |
| Venue | O2 Academy Islington, London |
Not been to London before. This is Oomph!'s only date in the UK so a man's gotta travel travel. I took the afternoon off work so I could get to St Pancras for half 5, then walk to Islington. I get to the venue (that's tucked away within a shopping mall) at about 6, an hour before doors, and there's already a long queue here.
I should note I've only ever listened to their debut album, creatively titled Oomph!, which was released in 1992. It's a very industrial-dance type album and it's fucking great. I'm reading through their Wikipedia article now to find my footing and it seems their sound changed quite a bit after their first album, which explains a lot. Standing in that queue felt like I was waiting in line at a Tumblr convention or something.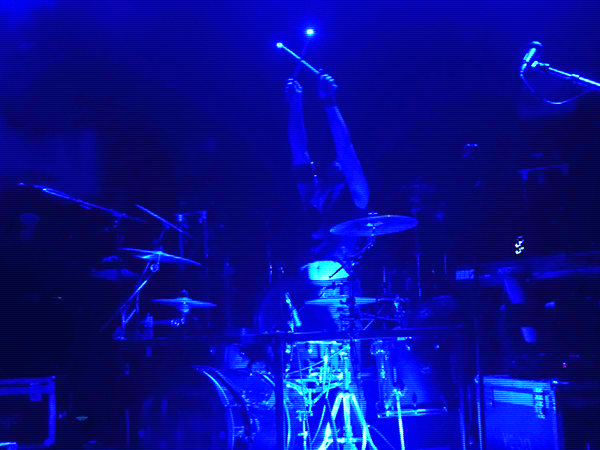 Something I clocked was that there were 3 tiers of VIP wristbands you could get. I've gone VIP twice in my life – once for Doyle, which was where you queued up after the show to spend a few minutes chatting and getting shit signed. The other time was for <PIG>, where you were scooped up an hour before doors to have a proper chinwag with Raymond and the guys while having a drink and getting stuff signed. That one was more like catching up with a family friend. Absolutely surreal. How the fuck are you gonna get 3 levels of VIP? How does it work? What is there between getting a CD booklet signed before being told to bugger off, and having a sit down and a pint with someone?
Another cheeky move I wasn't expecting was that if you were on the O2 mobile network, that gave you priority (perhaps that's why they called it O2 Priority…) so that you got in before anyone on other phone networks. So you had 3 batches of VIP and a bunch of randos on O2 roll in before the queue I was in. Still managed to wrestle pretty close to the front so I'm not whinging too much, but this level of tier system is something I've never witnessed before. London is fucked up.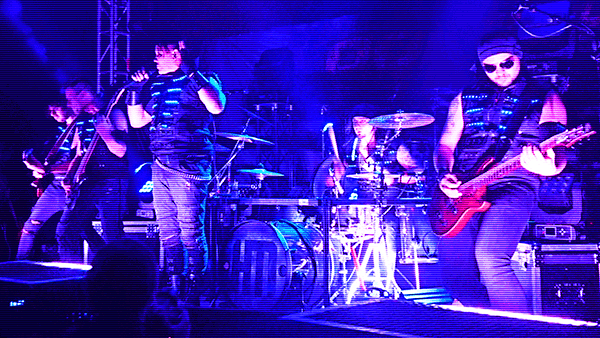 First up we got Heldmaschine. They were tearing it up. René Anlauff crowdsurfed near the end of the set, asking to be taken toward the bar. He grabbed a beer out of the hand of someone in the crowd before he was promptly carried back toward the stage. One thing I really love is when someone's crowdsurfing over you and the people around you step back or try and get out the way. I am not even Danzig height, and I got twigs for arms. You expect me to support this big 40-something year old German guy myself?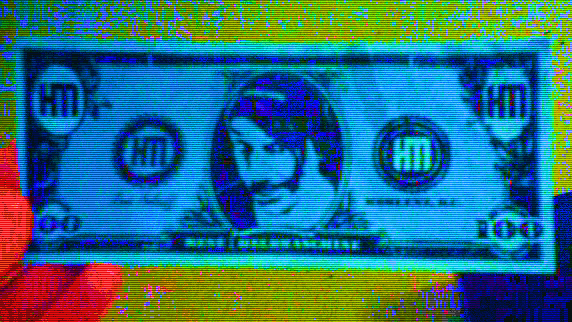 During their set they tossed out tons of Heldmaschine dollars. I suppose I'm officially rich now.
Next, we have Oomph!. My ass is ignorant and barely knows any of the songs, but each one is great anyway. Dero announces a few songs into the set that they're going to play some older stuff.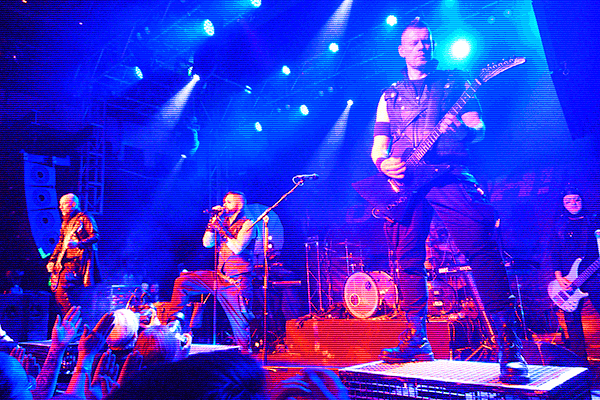 Der Neue Gott is about to kick off and I'm more than ready. The crowd's energy really seemed to die down during this song which really pissed me off. Lots of phones came out while people were quiet and still, recording the song. This is their most dance-able music yet and yous are just gonna stand there? Honestly. Next up was another golden tune, Mein Herz. Crowd picked up a little bit again, which was nice.
They jumped back into their newer stuff - which was good! I must stress - but time was ticking and I had to bolt at 22:30 on the dot if I wanted to make my train back home. I wormed my way through the crowd to the merch booth to grab a Heldmaschine shirt before hurrying out the venue. Oomph! didn't have any tour shirts which I found very strange.
I'm not sure why, but London was a lot more accessible than I thought it would be. I had no idea what to expect. I live in a decent-size city at the moment, but I'm originally from a town out in the sticks so this is quite a jump. Apart from the fact I nearly got hit by a motorbike coming out the train station, everything was fine. It just feels like every other city.