Posted: Mon, Mar 4, 2019
---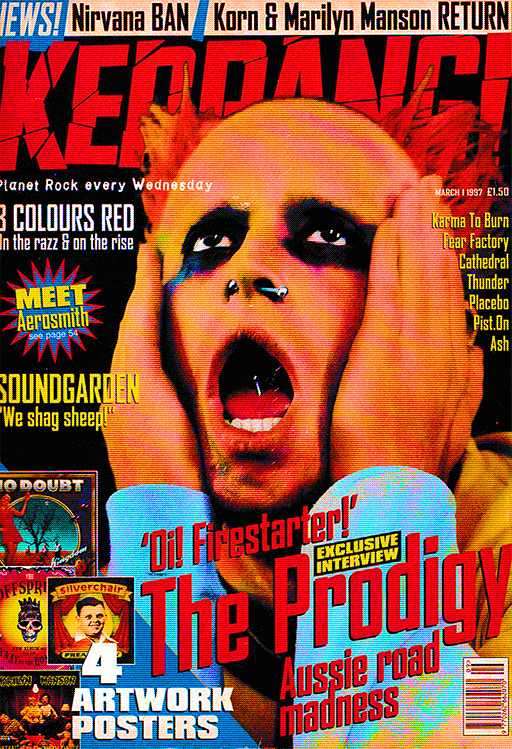 I'm typing this entry up on the day of Keith's passing, March 4th, 2019. This one hit me quite hard. I don't listen to The Prodigy religiously, but I loved this band dearly growing up. I'm still shaken up over it. I dug up this issue of Kerrang! with Keith on the front cover and decided to make this one the next one I scan up.
Alright, so what's going on in the music world this time 22 years ago? (Fucking hell… 22 years. This magazine is older than me.)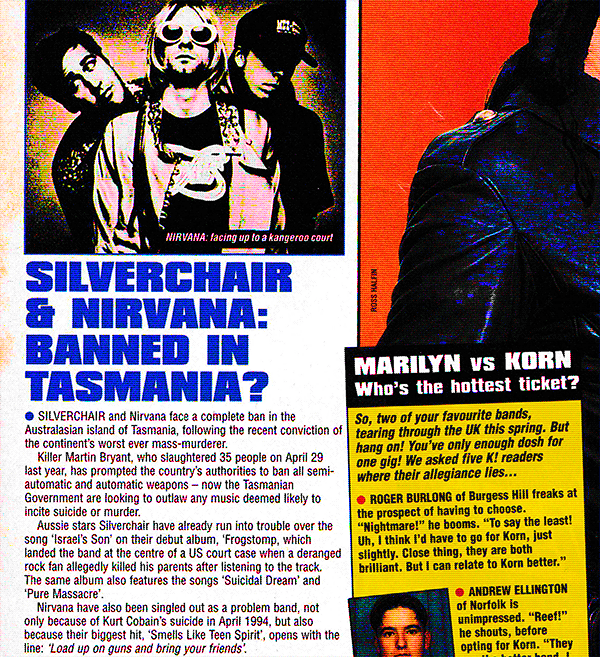 It's about a year after the Port Arthur massacre and all semi-automatic / automatic rifles have been banned in Tasmania. I would consider that a sensible move. And now, the government are thinking about banning music that may be a 'bad influence'. I would consider that a reach. Adults have been kicking off about music making people kill people since way before Columbine… but I shouldn't act surprised.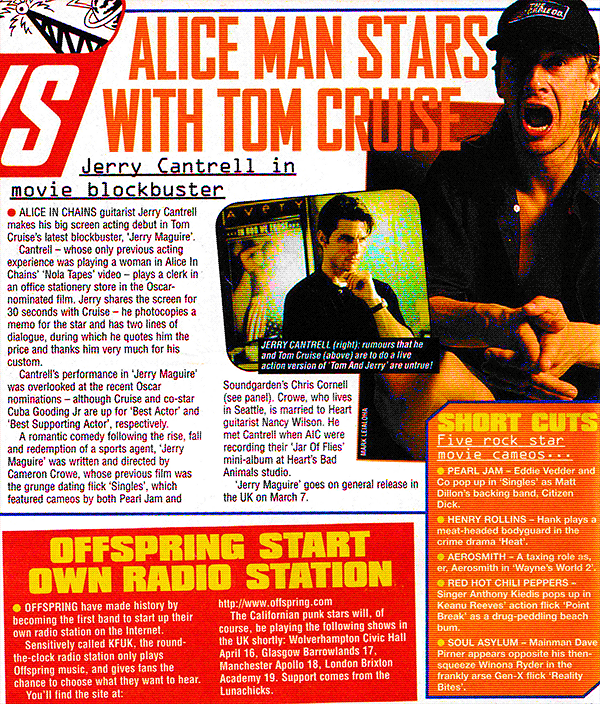 On a slightly warmer note, Jerry Cantrell is now an actor. He's starring in a wee film called Jerry Maguire. The Offspring now have a radio station where they just play their own music 24/7, called KFUK. That fucking rules. I tried to find the radio online, and while I found the actual page, the links don't play. Of course, this would've been a promotional thing for Ixnay on the Hombre, the fucking stellar album they dropped a month before. A few of the songs from that album are on their radio's heavy rotation list.
Anthony Kiedis has also landed a cameo in Point Break as a 'drug-peddling beach bum'. I was going to make a joke here but it's just too easy. I'll leave it.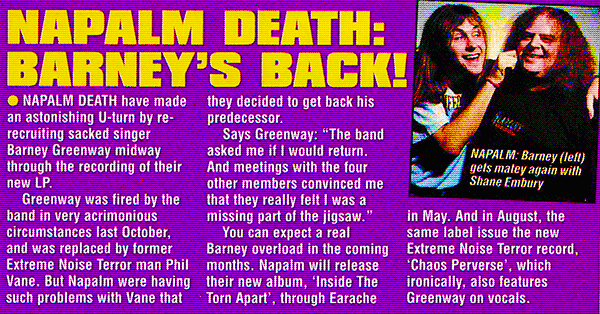 Barney's back in Napalm Death! Extreme Noise Terror practically swapped vocalists for a minute before swapping back. Good news all round.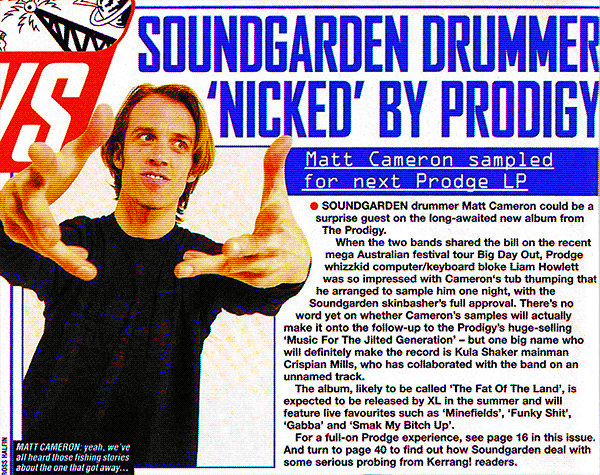 Looks like Soundgarden's Matt Cameron's been picked up to do drums on The Prodigy's next album, The Fat of the Land.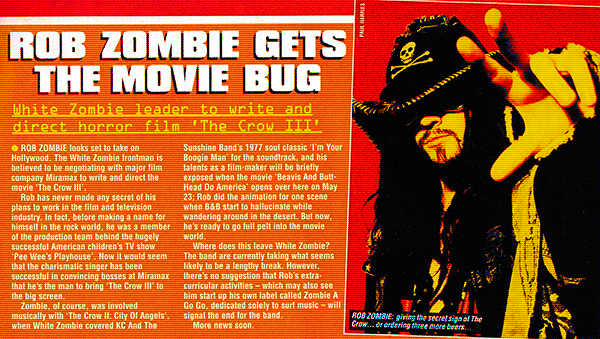 Rob Zombie's looking to direct a feature-length film. He's already made an appearance in the movie Airheads, and is now looking for something more. Spoiler alert: The Crow III, later titled The Crow 2037: A New Age of Gods and Monsters, would get canned.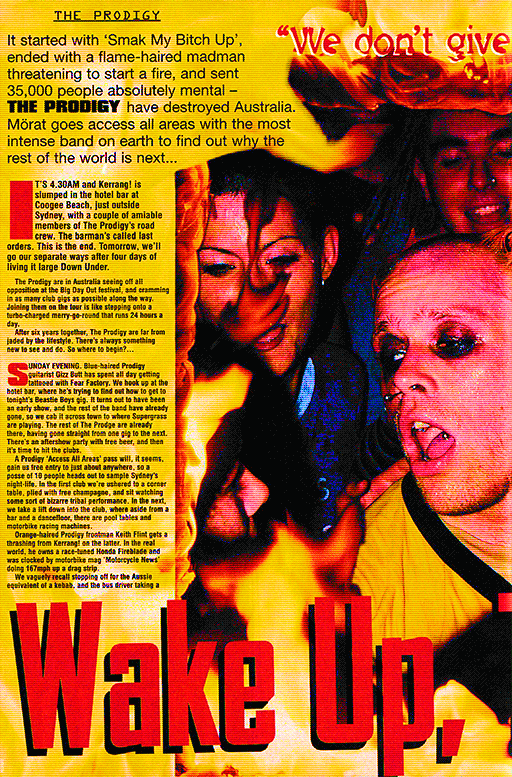 "Wake up, time to die!" is not the choice of words I really wanted to be looking at when typing this up. Truly.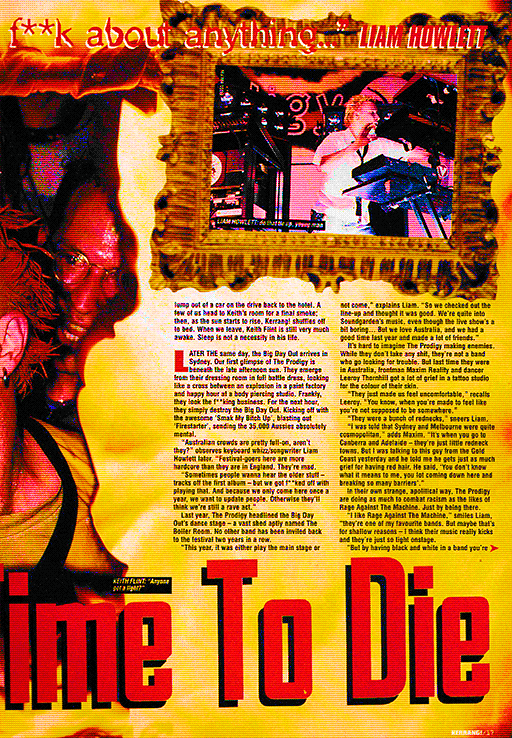 The whole article has been typed up on this website for your reading pleasure, because I sure as hell was not gonna type all that out.
The Prodigy are taking on Australia. Fucking up Australia, more like. They'll be dropping The Fat of the Land not too far from now, and a few songs from the upcoming album are already major hits.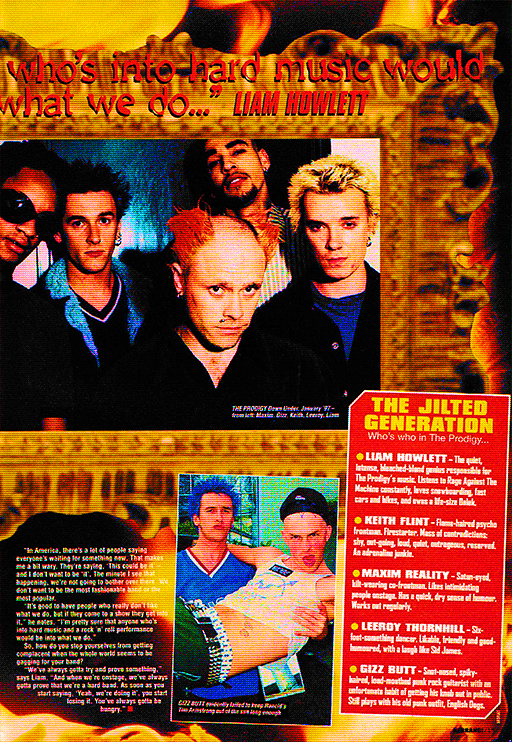 The guys talk about how pretty much everyone can get into their music. Their music goes hard and they know it.
Moving onto the live acts section of the magazine, there are a couple of things that stood out.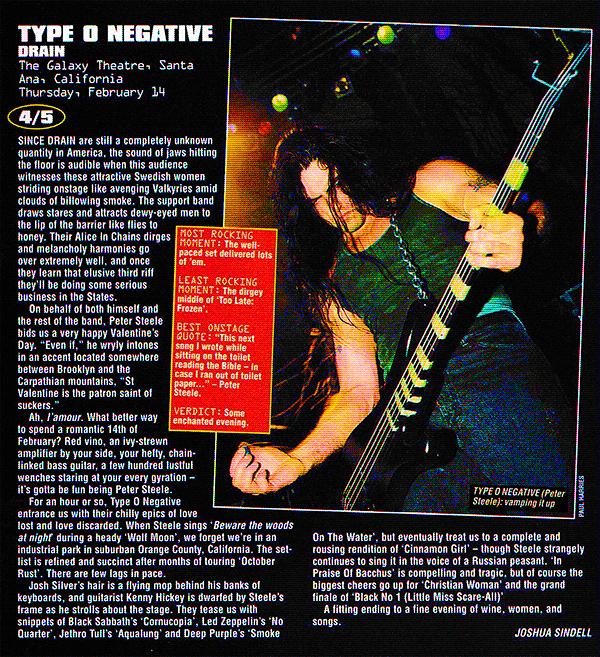 It's Valentine's Day, and what better way to spend it than by going to see Type O Negative.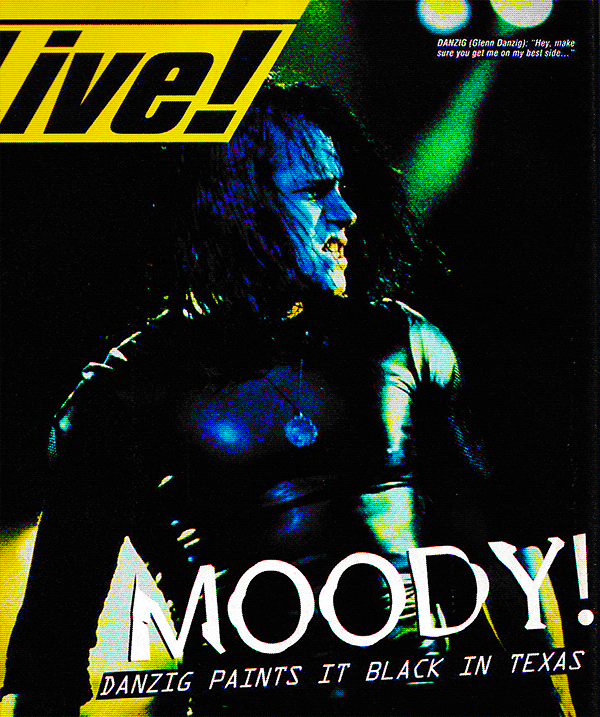 Nothing to say here, I just like this outfit. I want to see more of this in my day to day life.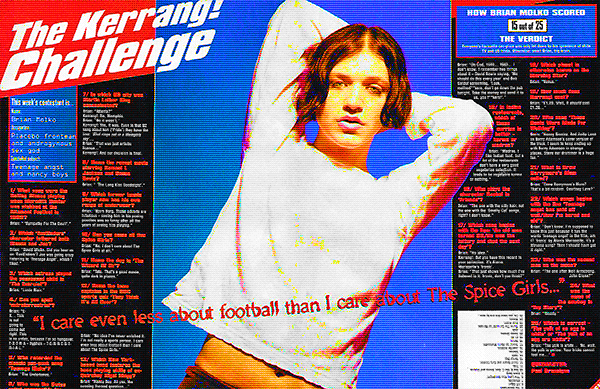 Brian Molko does a little quiz near the end. I scanned this one a while ago, as I distinctly remember painstakingly merging two A4 scans together so it would appear as one complete image.
He is unable to name any of The Spice Girls, which upsets me. That's just disrespectful.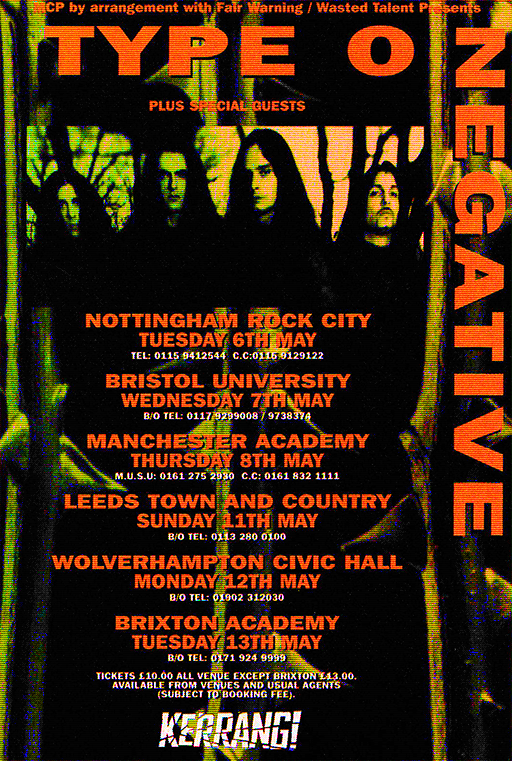 Not too much going on in the ad department, just this ad for a few upcoming Type O Negative shows. It's a nice ad — most of these gig lists are often just plain text on a blank background. You too could go see Type O Negative for just a tenner.
That's all I got for this one. Email me if you want a HQ, proper-coloured scan.
I never know how to round these off… all I can say is that I'll miss Keith Flint dearly. I hope he's fucking it up wherever he is right now.