Posted: Sun, Jan 13, 2019
---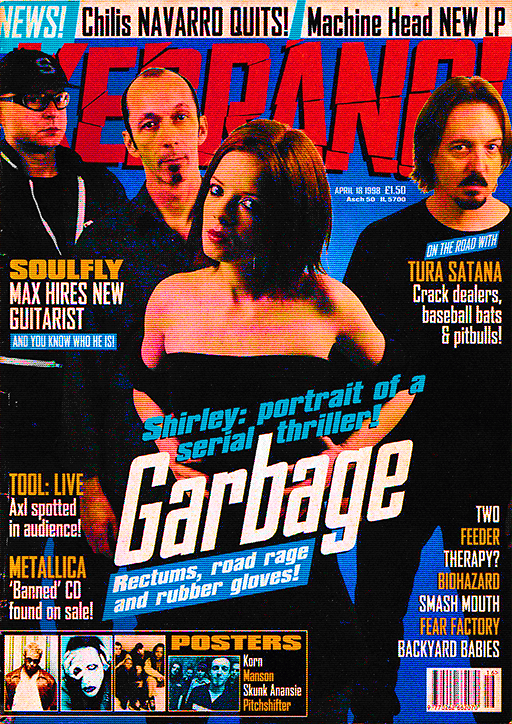 Garbage take the cover of this one. They have a new album coming out - 'Version 2.0', and had a lengthy four-page spread to promote it. The highlight of the spread was this one.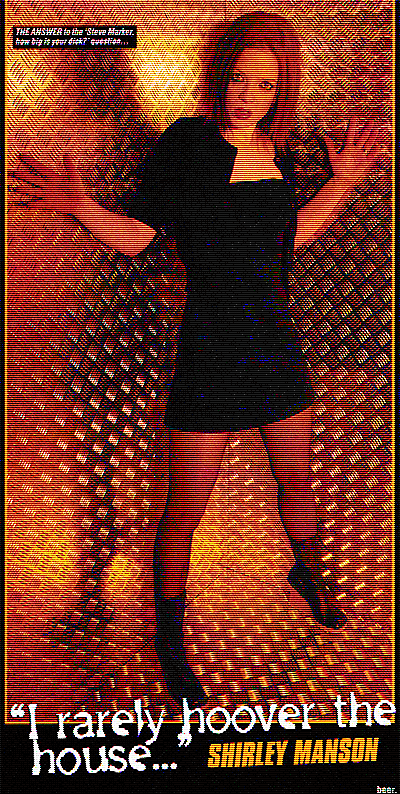 Now, I've never listened to Garbage, but clearly Shirley and I have a lot in common.
Garbage aren't the only band with a new album coming out!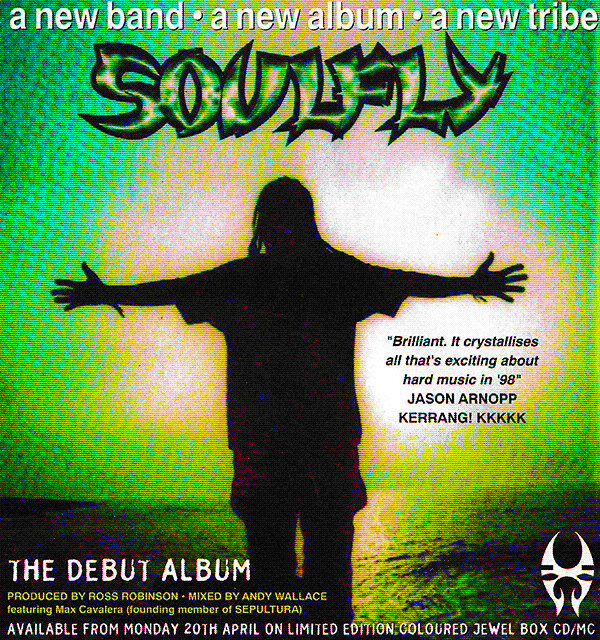 Soulfly are now a thing, and will be releasing their debut album in the next few days. It's called, well, Soulfly.
Fear Factory are also getting to work on their new album, Obsolete. They have a special guest on this one.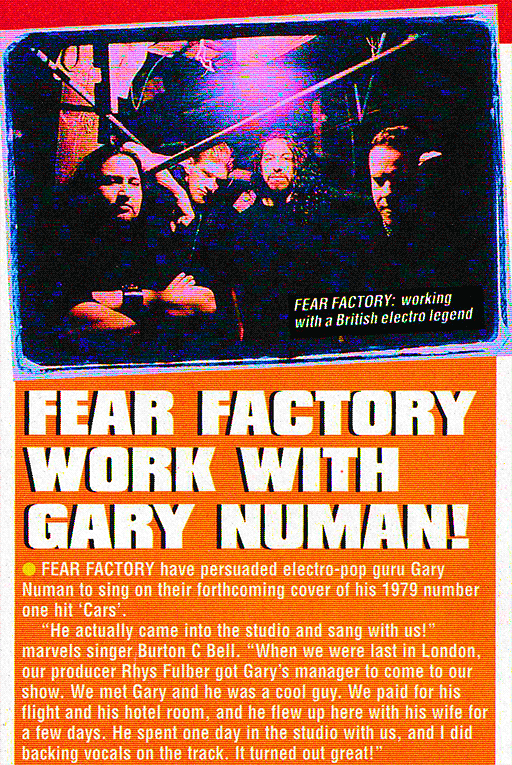 Fear Factory are working on their own cover of Cars, featuring Gary Numan on guest vocals. Gary Numan is famous for his 1979 hit single… well, Cars.
Let's move on to some live stuff. Who's killing it on stage?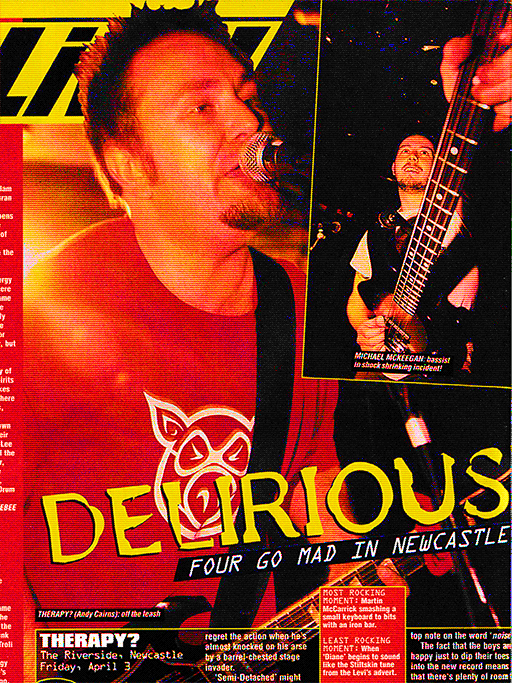 Therapy? for one. I'm not Therapy?'s biggest fan, but I've missed them TWICE now in the past couple of years. First time I had no transport, and the second time I was in hospital - had my ticket bought and everything. Third time's a charm!
Also a fan of how this photo was taken in my home city. I've seen a few people play at Riverside. Shame the venue's a bit shit. There's better choices, man.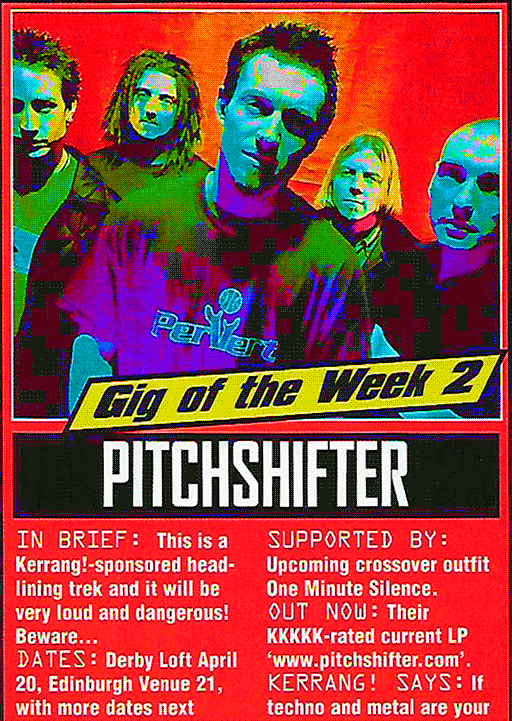 Pitchshifter are tearing it up too, or are at least about to. They'll be touring in support of their latest album www.pitchshifter.com. That album bangs. I had the pleasure of being crushed alive during their tour to celebrate the 20th anniversary of that album, which you can read more about.
We also have a few ads in this one.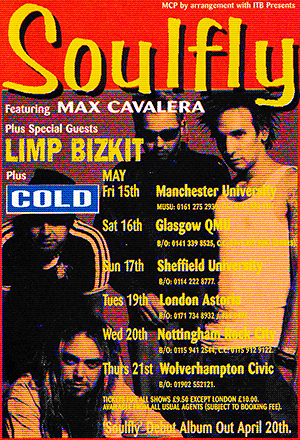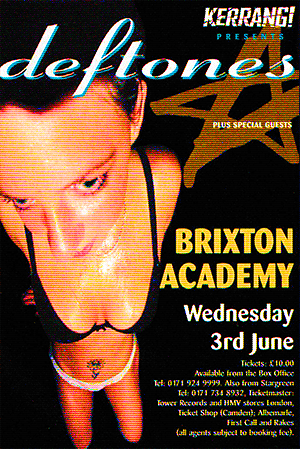 Two stellar gigs right there… Deftones touring for Around The Fur and Soulfly touring with Limp Bizkit and Cold. God damn.
Bradford also got a dose of goodness with this lot.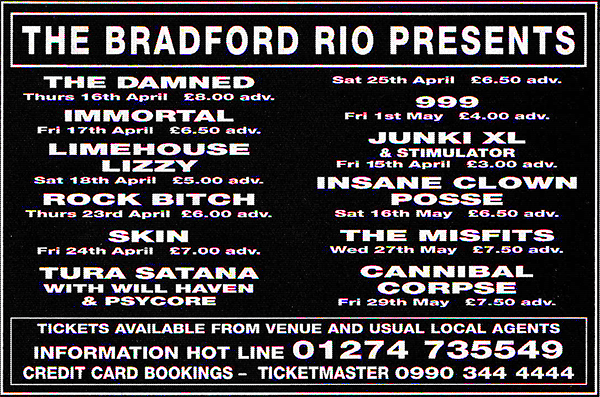 You wouldn't really expect to see such a wide variety of bands on such a small ad but Bradford's doing it all.
One last pic before I round this one off.

Another Pitchshifter ad. Thought this one was very nice on the eyes so I'm throwing it in too.
That's what I consider the best bits of this issue. I just bought a new scanner and it is a fucking dream. I'm hoping to upload scans at a much faster rate. Not quite sure how fast, but considering the first issue I uploaded was some time in April last year, I think I can do better.