Posted: Thu, Sep 24, 2020
---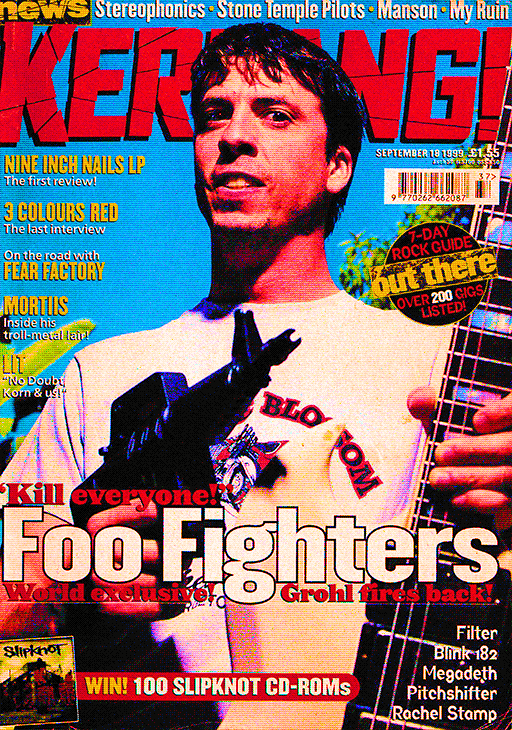 It's been over a year since my last scan, which is fucking terrible. I've just moved house and have no internet so I guess I should try and do something productive – bringing me here!
Dave Grohl takes the cover of this issue to promote some new Foo Fighters release that I really don't care about. I skipped the interview so uhh… I hope that's not important.
Heading in strong with some hot gossip - turns out, Marilyn Manson is a massive knob. Who would've thought? Trent spills the details.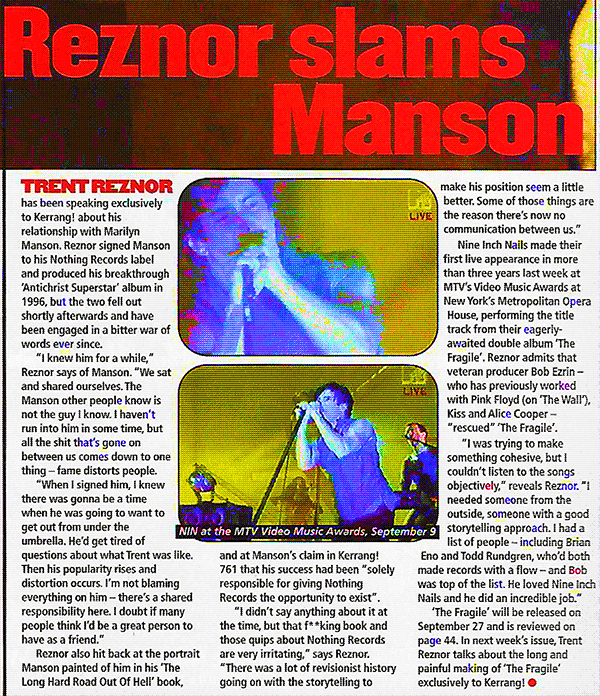 "I doubt if many people think I'd be a great person to have as a friend," he says, which pulled at my heartstrings a bit. Bless him. It's amusing to me now, because Trent still has a wildly successful career not just with Nine Inch Nails but with all of the soundtrack stuff he does with Atticus Ross. He's loaded and you'd be hard-pressed to find someone that didn't at least like the guy. What's Manson up to? He's not released anything worth listening to since Holy Wood and his only fans are Columbine stans and teenage edgelords. I should know, I was the latter and I had a Tumblr account. I've seen it all.
We move swiftly on to a photoshoot with Tairrie B, to promote My Ruin's new single Terror. There's still a chance to catch them live at Portsmouth and London as they round off their UK tour.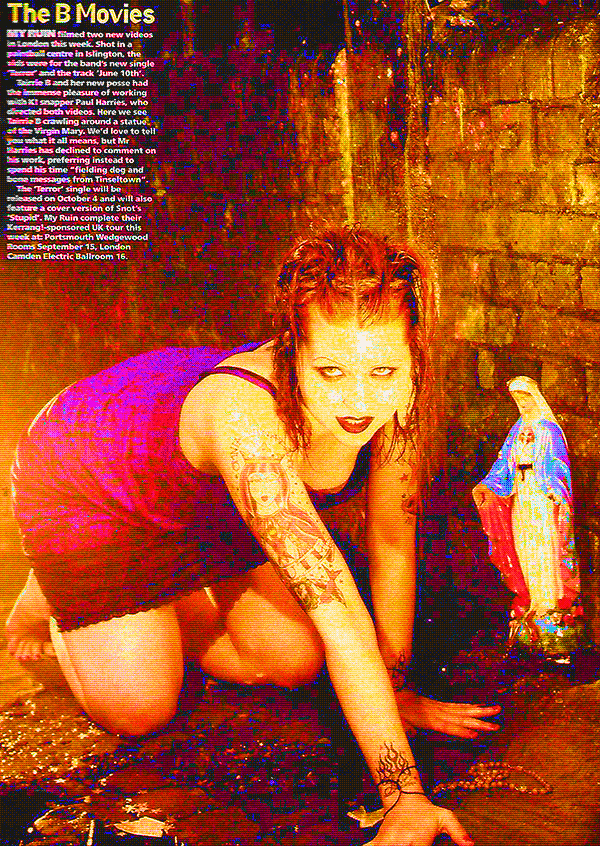 Now for the question on everyone's minds: who's the buffoon of the week? Taking the title is Chino Moreno, giving Grimes and Elon Musk's hellspawn a run for its money.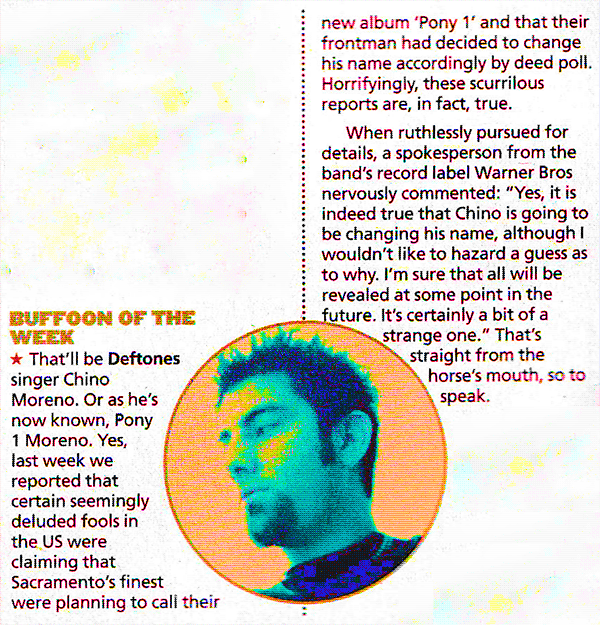 A bit of online digging leads me to believe that Chino did not, in fact, change his name to Pony 1 in the end.
Atari Teenage Riot are fuming. Their new video for the single Revolution Action has been banned from MTV.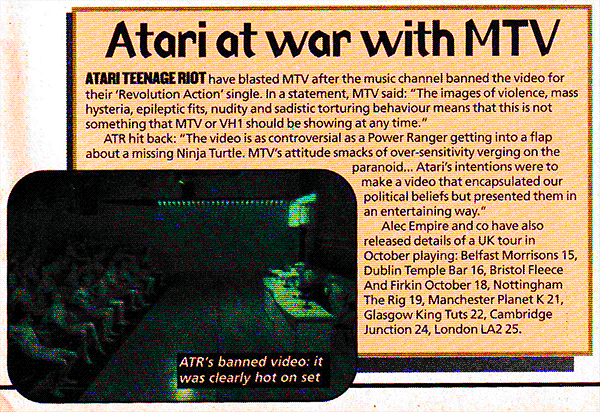 You often see usernames online, mainly stan accounts, with names like "Jungkook's left eyebrow" or "Jimin's ballsack", but I present to you, dear reader, the most excellent handle known to man.
'Aaron Lewis' half-finished tribal tattoo'.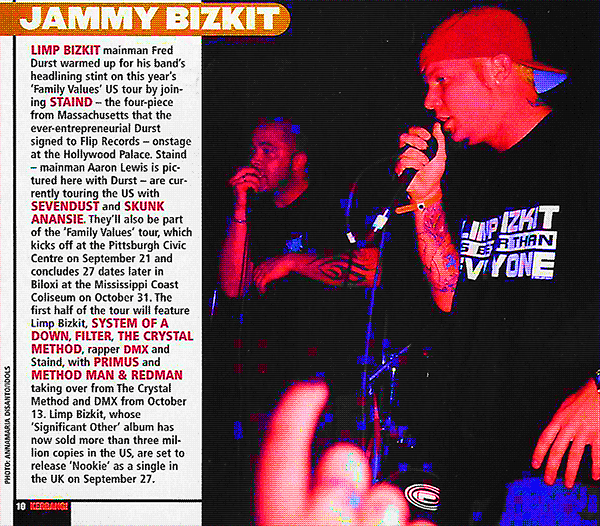 There's something incredibly amusing to me about this. Tribal tattoos are trashy to me, and not in a sexy way like barbed wire tattoos or tramp stamps, but in a "this guy doesn't wipe after a shit and probably beats his wife" sort of way. This is the first time I've seen one half done. Why didn't he get it done in one sitting? Did he run out of cash? He's the frontman for Staind, so hardly. Could he not tolerate the pain? Did he not realise the length of time it took and had to cut it short? So many questions and so few answers.
Here's a band I haven't listened to yet - Rachel Stamp.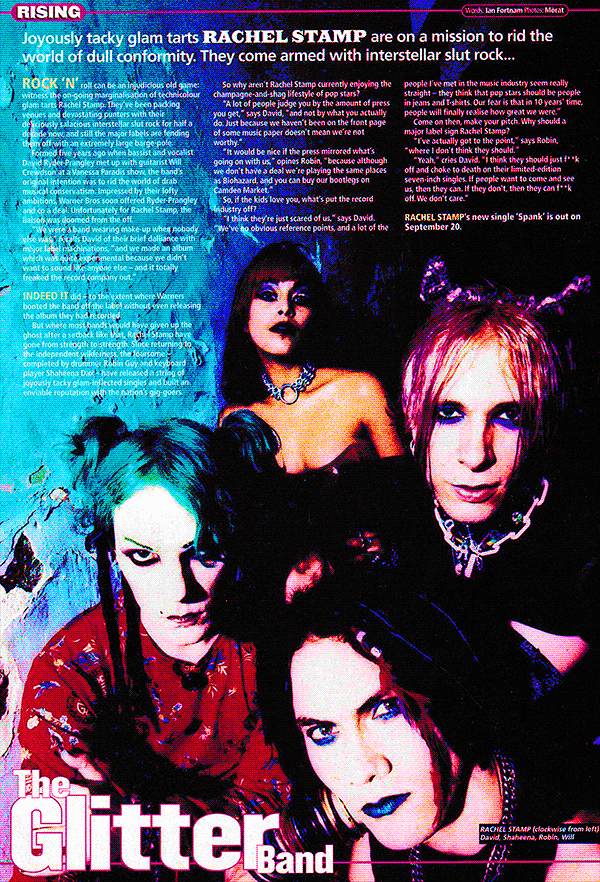 Their look intrigues me. I love guys in make-up and dyed hair. We have an interview with them where we (surprisingly) see they've had trouble getting signed. Here, they're promoting their new single Spank.
Next up was the massive interview with Dave Grohl which I didn't bother reading, but one spot jumped out at me. New Nirvana material – 5 years after Kurt's passing. This was for that Nirvana box set that came out, including the last track recorded by Kurt, You Know You're Right.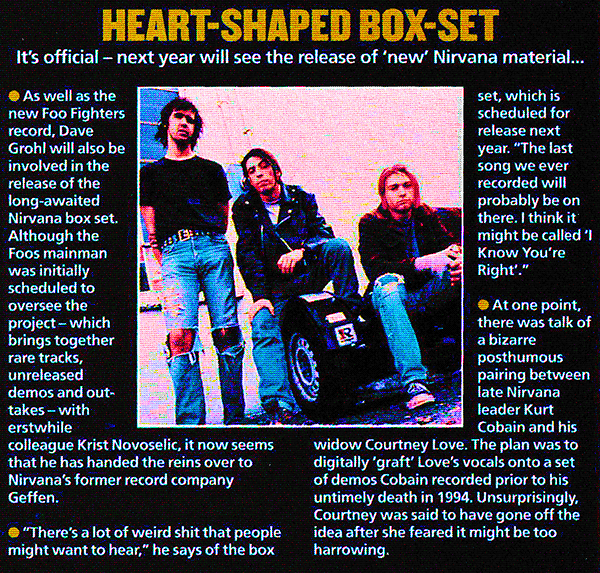 After Dave we had an interview with the guys from Lit. You know those guys! They had that one song: My Own Worst Enemy. The classics, right? I didn't arse on with their interview either but I liked this photo of the lot of them.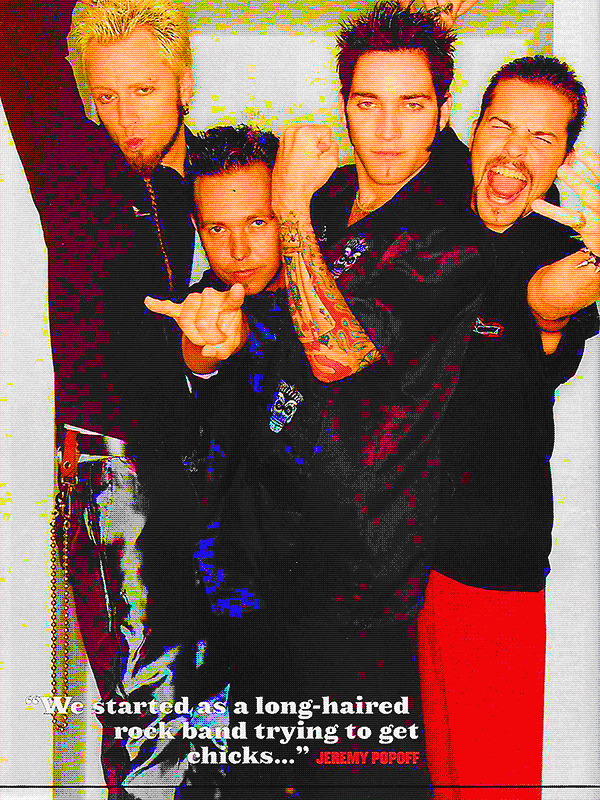 Beard braids are the wave. I'm learning how to install synthetic hair so I can braid my own beard and revive a long-lost trend. We cut and dye our hair as a form of self expression, so why do we not do the same with facial hair? So many guys with beards look like horseshit because the beard is dry, scruffy, filthy, full of split-ends, patchy, whatever you can think of. A quick chop and dye with some fun stuff added? Elevates the look 1,000,000%.
YOU! Dear reader! Would you like to win a trip to America with Coal Chamber? Simply buy 3 copies of Kerrang, cut out some headshots, slap them on a form, and off you pop. I've never seen a competiton requiring subsequent copies of a magazine, but I guess it makes sense. Flights aren't cheap!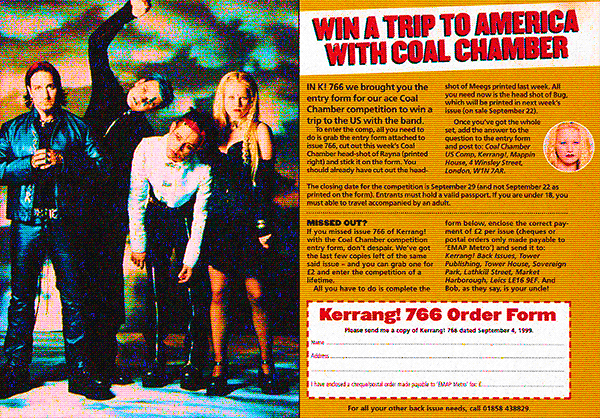 Let's head up to the mysterious Norwegian mountains to meet the goblin king, the dungeon synth master, Mortiis. We have a cute shot of him here.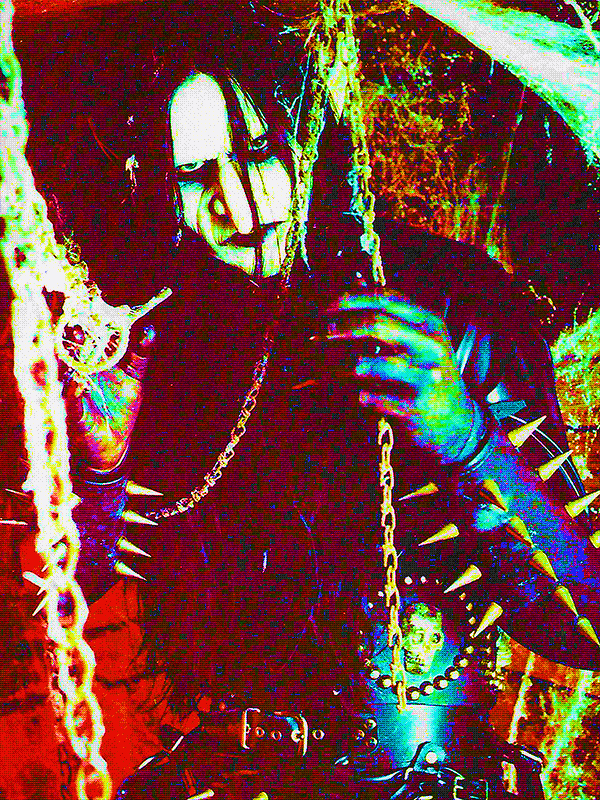 I didn't fancy scanning and pasting the entire interview, but I did find this amusing:

Next up: Fear Factory. Kerrang takes a deep dive into the origins of the band and the process they've gone through so far – or the Decade of Aggression as their headline would state. It kind of hurts reading this article, because for the last few years Fear Factory have been in fucking shambles with legal shit, with Burt recently throwing in the damn towel on the band altogether.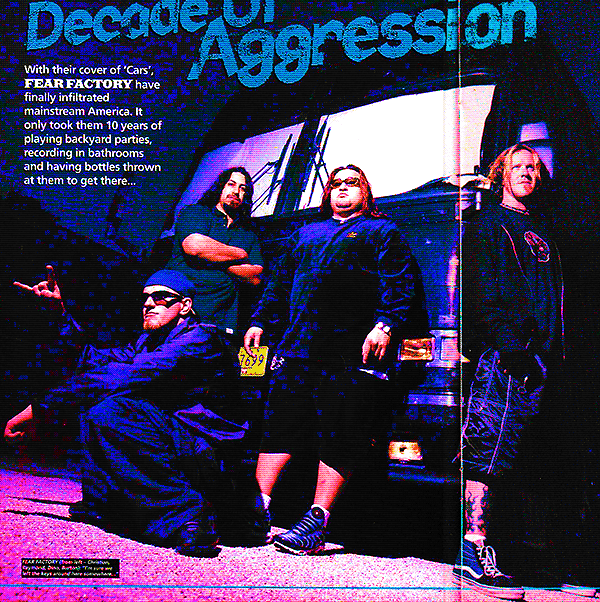 I don't need to show the text. You have access to Wikipedia.
One thing to note is this '94 snap of the band. We have Burt repping the legendary Wax Trax! record label and Dino's in a Neubauten shirt.
EINSTURZENDE NEUBAUTEN REFERENCE COUNT: 1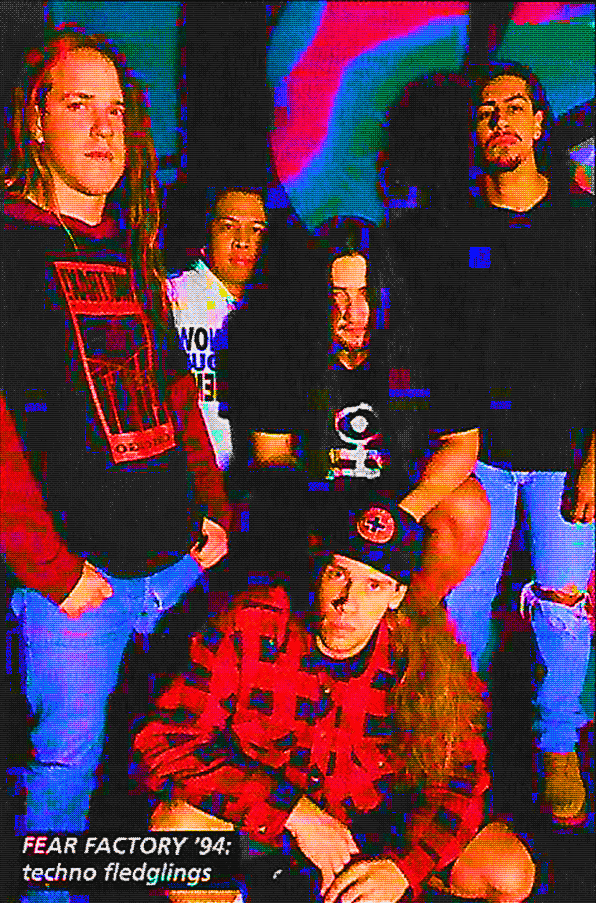 Speaking of Cars, let's check in with Gary Numan. I find it adorable how much he loves Trent.
He has a few hot takes too – Orgy gave Blue Monday 'so much more bollocks' than the original! Take that, New Order, you hacks.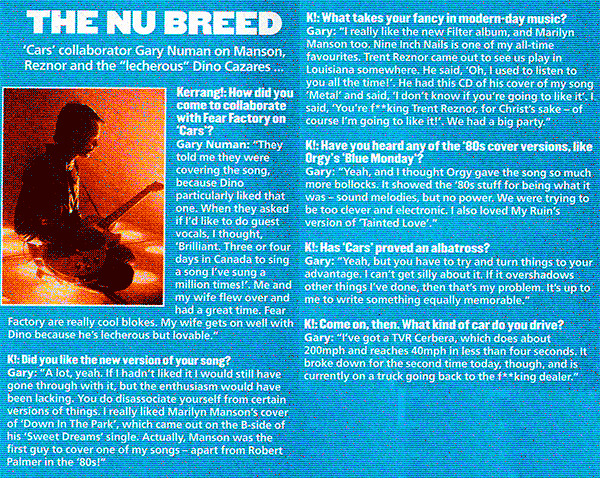 We then catch a few live performances to see what gigs are worth going to. Reality TV star Flavor Flav is in town, and yes, he has his clock.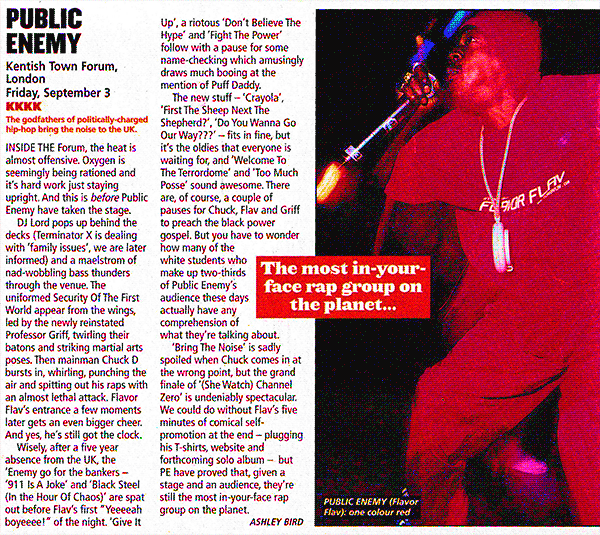 We also have a stellar shot of Rollins. Shots like this make me want to get ripped as fuck.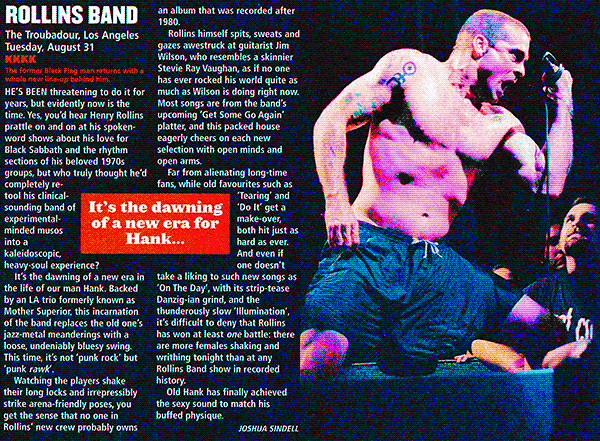 Oh yeah, that's another hit for the Neubauten counter.
EINSTURZENDE NEUBAUTEN REFERENCE COUNT: 2
Nearing the end of the gig section, it's announced that Roadrunner have another 'drilling the vein' VHS coming out. They did a decent amount of these.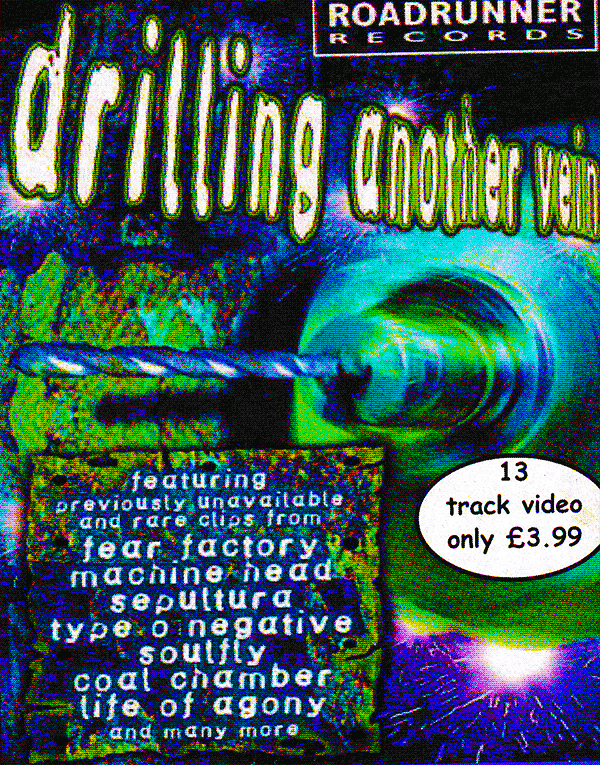 I actually own this one!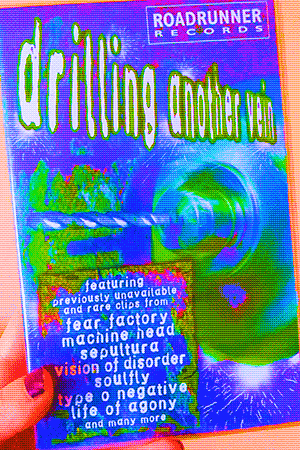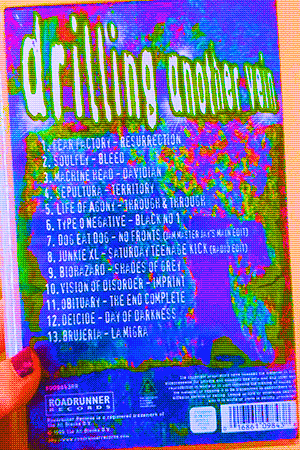 What a fucking lineup. Killer artwork too.
We then move into the review section, checking out new releases and seeing what's worth listening to and what's absolute crap.
A bit disheartening to see Sevendust's new release Home get proverbially crapped on. I loved that song they did with Chino – Bender.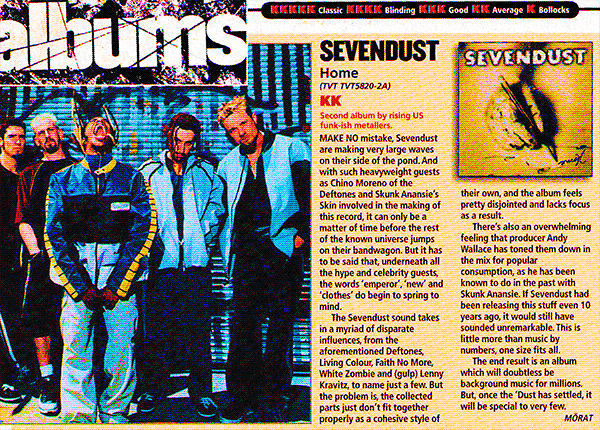 Blink-182's new song is out too, and it's not looking too good. It's earned the Kerrang ranking of 'bollocks', and rightfully so!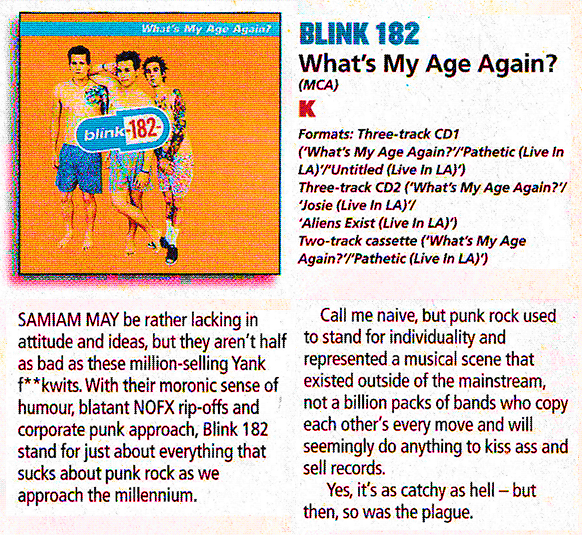 We sail past onto the odds and ends. The burning question: is the war between goths and skaters over? A letter from Manson's Arse-Crack sheds some light on the issue. Jonny from Glasgow is fuming, but he's from Glasgow so that's a bit of a given.
"I'm sick of cringing when I see you lot on the dancefloor". Question: why do you hate fun?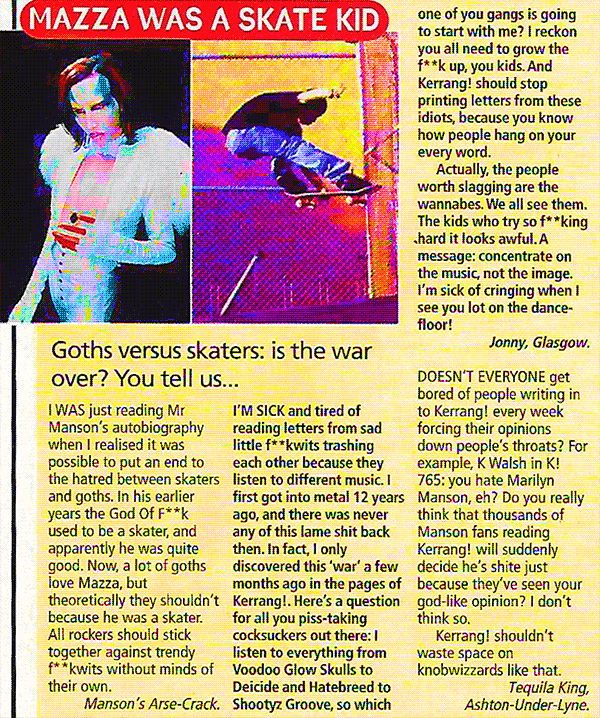 Are you tired of listening to rap music and not knowing what anyone's talking about? Here comes a new website, a rap dictionary. Now you can translate lyrics from groups such as Cypress Hill! Isn't that amazing?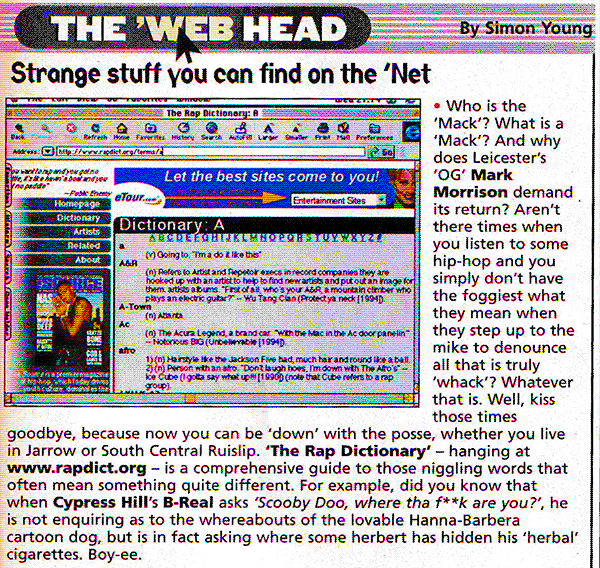 Another fun site is the introduction of the Atari 2600 emulator. Just look at that ridiculously ugly URL.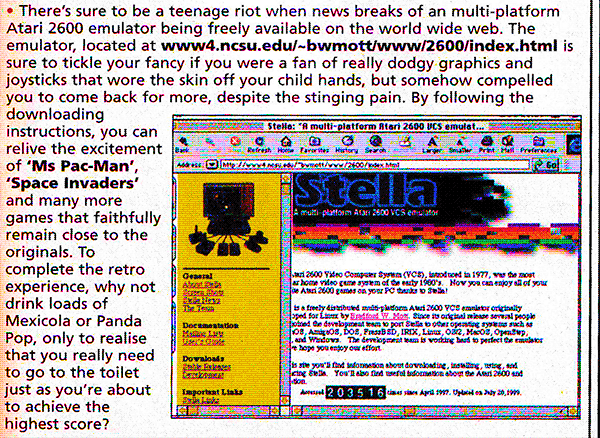 Let's check in with Jim Davies from Pitchshifter and see what he's up to! I do love me some Pitchshifter. The band has recently released their new EP Un-United Kingdom. He takes a swing at crappy black metal band names, and he really fancies Catherine Zeta Jones.
I also found out wor Jimbo did the bass and guitar on The Prodigy's cover of Fuel My Fire - small world!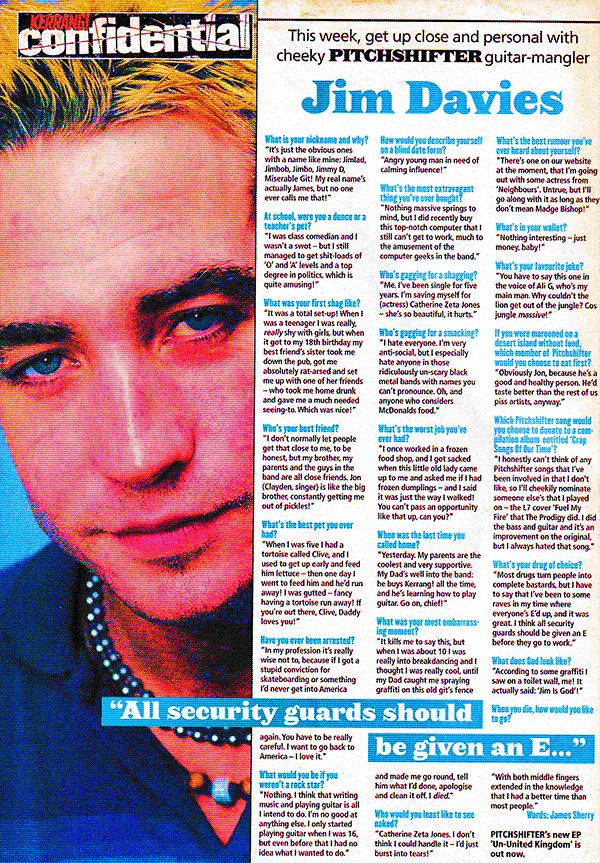 We end this entry with a scan of the back cover - a promotional flyer for Type O Negative's new album World Coming Down. I thought it looked stunning with the saturation whacked up. Type O albums are good for that kind of thing.