Posted: Wed, Dec 22, 2021
---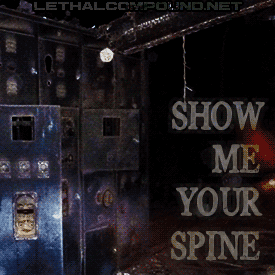 Duration: 3h17m21s
Well, it's been pathetically long since I made my last playlist, but it's finally here. I'm trying something new - we're doing a Winamp thing now with some beautifully crafted mangled mp3 files. Stan piracy!
We got some industrial (of course…), noise, EBM, power electronics, all kinds of shit that transports is mentally to an abandoned factory, thick with smoke and soot, the smell of wet metal filling the air. Or something, I don't know. I don't read books. I can't write like that.
…
Oh, alright. Don't want to fuck around with the Webamp widget? You can still listen on Mixcloud, Spotify, or listen to a good ol' MP3 file right here. Heathens.
P·A·L - Concrete Rage (Vinal Version)
A Place To Bury Strangers - Everything Always Goes Wrong
PTP - Show Me Your Spine
Skinny Puppy - Chainsaw
Noise Unit - Collapsed
You've Got Foetus On Your Breath - Wash It All Off
Spetsnaz - Apathy
Alice Glass - Cease And Desist
Non-Bio - Nourish
Converter - Coma
Synapscape - So What
Stahlschlag - Trigger
Blush Response - Ereshkigal
Ah Cama-Sotz - In a Cold Room, Where Time Stands Still
Flint Glass - Gondwana (feat. Polarlicht 4.1, Transistor)
Tzusing - 4 Floors Of Whores
Rendez-Vous - Euroshima
Nitzer Ebb - Control I'm Here
SOPHIE - UNISIL
Neurotoxic Identity - Red Alert
Laibach - Tanz Mit Laibach
cEvin Key - lifeRAMP (2001)
Human Vault - Mission Entropy [Tek Cut]
Portion Control - West [Short-range]
TOKYO ROSE - CHAINZ (feat. Owl Vision)
Vomito Negro - Sabotage (EBM Mix)
Das Ding - Agency
JACKIE EXTREME - PANIC!
Rein - Accelerate
Maenad Veyl - Self Help
Ah Cama-Sotz - Paranoia
Fractions - I.B.M.
Kris Baha - Fuels The Fire
Giant Swan - Pandaemonium
Dreamcrusher - Youth Problem (feat. Alice Glass)
Akira Yamaoka - Executioner's Handywork
Muteual Mortuary - Hateless Insanity
The Peoples Republic Of Europe - Kim Il Sung Among Workers
Pig - Mobocracy (Terminal Remix)
Mortiis - The Great Leap (Godflesh - Extended Remix)
Fuze Box Machine - Intifada
The Klinik - White Trash
Skinny Puppy - The Choke
Karjalan Sissit - Sika Setä
Sonikku - Joyful Death (feat. Tyler Matthew Oyer)