Posted: Fri, Oct 2, 2020
---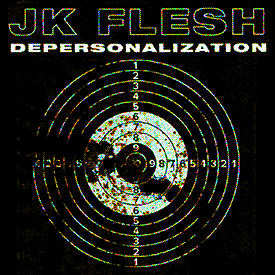 Bandcamp link: here
How did I even find JK Flesh? Honestly, I don't remember how I found this album or how I found out Justin K Broadrick did stuff other than Godflesh.
I remember listening to this for the first time. It's this mind-crushing onslaught of heavy techno beats that makes me feel some type of way – specifically it reminds me of when I went to see Napalm Death shortly after I'd been in hospital, and I'd taken a handful of codeine 60s washed down with this guy's rum who was staying in the same hostel room as me. I felt like a barely animated corpse the entire show. I just remember being sat on a stool near the back, transfixed on the stage, music pounding but barely entering my ears, feeling like part of me was soaring through 3 different parallel universes.
This album's great. It seemed to have an offensively limited physical run so I will have to fork out big bucks if I want a cassette, never mind trying to get it on vinyl.
Favourite track: The Body Is Not Real