Posted: Fri, Nov 12, 2021
---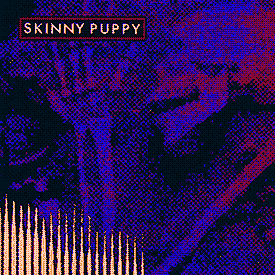 My heart stopped when I seen this.
I was due another trip down to Huddersfield for a tattoo touch-up, so I thought I'd have a peek at the vinyl shop's website to see the offerings in case there were any gems I could pick up when I went down.
And gems there were! I picked up 2 Coil LPs with a bonus Coil/Zos Kia/Marc Almond LP, a Run the Jewels LP, and singles from Meat Beat Manifesto and A Split-Second. Plus this. And a Mortiis promo card for the 2005 Decadent & Desperate tour… don't know why the fuck I felt compelled to pick that up but hoarders will hoard, I suppose.
What is there to even say about this? Except that I overpaid for this, looking at Discogs.
It's such a stellar release. Every track bangs. I've never heard an album like this in my life. You're hit full force with the absolute anthem Smothered Hope, moving to more haunting tracks like Solvent, followed by the dance beast of a track, well, Sleeping Beast. There's an indescribable atmosphere to this album (EP, whatever) that makes it one of my favourites of all time.
Favourite track: Impossible to choose. For now I'll go with Solvent.