Posted: Tue, Jan 22, 2019
---
NOW LISTENING: Chu Ishikawa - Knock Off
---
I've stumbled across the Holy Grail. It's an auction website for machinery that factories don't want anymore. Most of the stuff on there looks like it goes up when factories go under and they need to try and get shot of everything they have. A lot of the stuff on there is pretty standard, but sometimes you can find some quality items.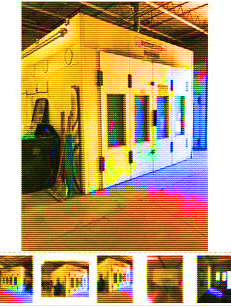 Some highlights:
DeVilbiss Concept Cure Automotive Paint Booth
About the size of a flat in LA, I could buy this and live in it. (Pictured)
Assorted Milling Cutters on Wall
Home decor that would put All Saints out of business.
24" Tilting Precision Rotary Table
A cute coffee table that sold for $140.
UNIST 25014-Y Precision Lubricator
This sold for $14 and just looked like a bog standard food processor. I don't know where the hell the lubrication part comes in, and frankly, I don't think I want to know.
CAE Ransohoff Lean-Jet Aqueous Industrial Parts Washer
Something to give your crockery a proper clean.